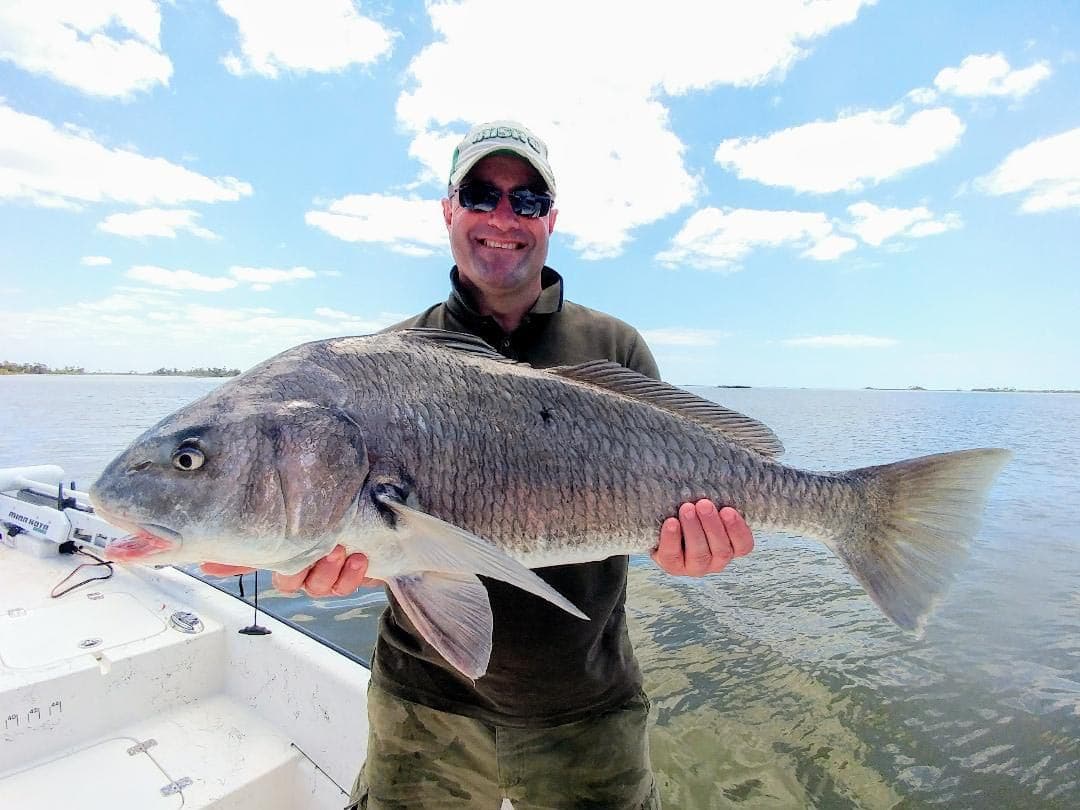 Last Updated on December 30, 2022 by Eric Bonneman
If you're looking for a fulfilling and exciting day on the water, look no further than Crystal River. There is an abundance of fish to target within these waters, but one species stands out above the rest: Black Drum. Here is everything you need to know about targeting Black Drum!
Fishing in Crystal River
Crystal River is an angler's paradise! It is located on Florida's Gulf Coast region and boasts crystal-clear waters and a varied and abundant fish population. From red drum to speckled trout and the big game tarpon, something is thrilling in store for any angler ready to brave the waters. And if you're up for more of a challenge, the infamous snook awaits your skill test. Not to mention the black drum that can rival its species in size, too! It's not just about fishing, though – Crystal River is also home to plenty of gentle manatees, which can often be found basking in its warm springs.

What are Black Drum
Black drum are a sight to behold for any angler, with their unique black coloration and vertical stripes showing off in the water. They can be found inshore around the western Atlantic Ocean, including along Florida, the Gulf of Mexico, and other southeastern states. Black drum are exciting due to their ability to create a sound known as "drumming" using an air bladder.
Of course, they're also quite large – certain specimens have reportedly reached over 100 lbs! In Crystal River, Florida, they're held in high regard among fishing enthusiasts who appreciate the challenge of snagging one of these impressive fish. Doing so requires heavy tackle and natural baits; you never know what you will get when attempting to reel in a black drum with its notorious strength!

Use Live Bait
When targeting black drum, using natural bait is the best way to improve your catch rate. Live or dead shrimp, crabs, and clams make great baits as close as they get to the black drum diet. Natural bait has an advantage over artificial lures because of the sensitive barbels around their mouths. These barbels make them particularly capable of detecting scent and texture – making natural baits extra appealing for black drum than their artificial counterparts. So for those looking for some serious action, give natural baits a shot!
Fish With Us
If you're looking for an unparalleled fishing experience in the Sunshine State, look no further than Florida Fishing Adventures in Crystal River. After years of expertise, Captain Louie Argiro knows where your chances of catching a big one are getting better by the minute! There are many options, such as extreme shallow-water sight fishing, inshore shallow-water grouper trips, fly fishing, tarpon feeding, and even kayak or shark fishing. He will manage your lodging needs, so you must arrive at the dock and prepare for your unforgettable adventure! Trust me when I say this is one trip you won't ever forget – so book your trip with Captain Louie now and let him show you what's biting!