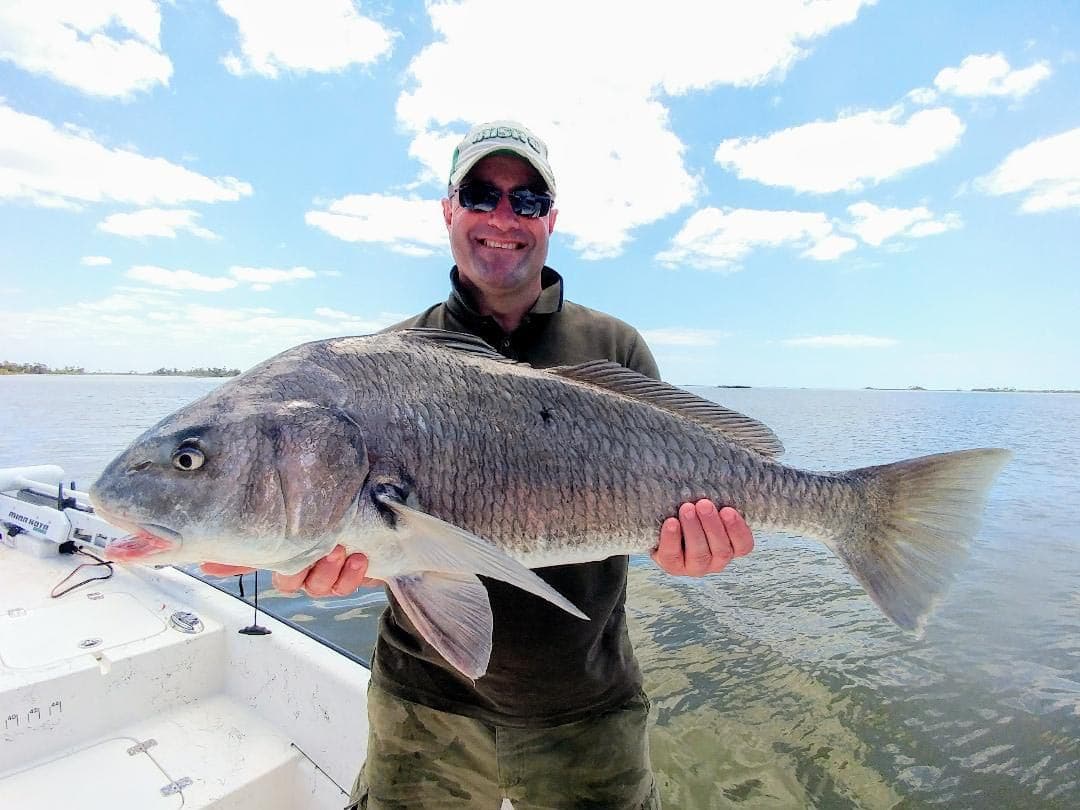 Last Updated on January 21, 2021 by Eric Bonneman
The Black drum is a popular species along the Florida coast. This is a fish that can weigh a ton and put on a fight like a bulldozer. While they are also found in deeper waters, catching a Black Drum along the flats or in the backcountry definitely makes for an exciting moment. When looking to target Black Drum it is important to understand some primary factors involved. Let's look at the top 5 tactics you should know in order to have success with this awesome fish.
1. Gear Selection
The right gear is a tactic, the primary one. Having the right tools for the job is always a smart choice. The proper setup for Black Drum in shallow waters should include:
Medium to Medium-Heavy, Inshore Fishing Rod 6'6″ to 7'6″ in length
A Medium-Light Spinning Reel, 3000-3500 Series.
Braided Fishing Line, 12-40lb (12-20 for smaller fish, 20-40 for larger)
Fluoro Leader, 15-40lb (15-30 for smaller fish, 20-40 for larger)
Circle Hooks (for bait), 1/0-2/0
2. Bait Choice & Setup
Black Drum eat crustaceans, so our bait choices will follow suit. Let's look at the top bait choices for Black Drum:
Small Crabs
Live Shrimp
Frozen Shrimp (break off the tail for scent)
Clams
When utilizing natural baits for Black Drum there are a few terminal tackle setup considerations. One of the top rigs used for Black Drum is the Carolina Rig:

Alongside, you want to make sure you are using just enough weight to keep the bait near the bottom, where Black Drum feed.
3. Artificial Lures
This is undoubtedly the hardest way to catch Black Drum, but completely doable – even when fly fishing. These lures can include bucktails, soft baits that mimic shrimp and crabs, but a general rule is that if it works for Redfish, it will work for Black Drum.
4. Techniques
The main technique for Black Drum is slow-paced. When using baits, it is best to cast it into an area where these fish may be held up or coming through and wait. If using lures, you won't quite set it and forget it as you do with bait, but extremely slow-moving action along the bottom will serve you well. In this, weedless setups are preferred for lures. Alongside, you may consider a shrimp or crab scent.
Once a Black Drum hits a bait or lure, they will generally hook themselves. You can actually lose the fish trying to "Jimmy Houston" the hook-set. Instead, let the fish take the presentation and start to move, remove the slack by reeling up, then apply the pressure – that's it, time for the musical stylings of our favorite band, your drag screaming.
From here, steady pressure with a raised rod tip is your next goal. Get the drag set tight enough to control the fish and keep it away from structures that may cut your line. It is also highly recommended to use a landing net with this species, they are strong and will battle to the bitter end.
5. Find Them
Now that you have the gear and know what and how to do it, the last step is to go find them. They are actually found in quite a few different places.
These include:
Flats and Estuaries (Near deeper pockets)
Bridges
Oyster Beds (Near deeper water)
In the Surf
Sandbars
Passes and Channels
But even off in deeper water, the key ingredient to all of these areas is some sort of structure.
Regardless of the chosen location, a moving tide will be your friend. This is especially true inshore. This species relies heavily on its sense of smell. In this, they will tend to hold up downstream of the flowing water. Knowing this, your presentations should enter their strike zone from the upstream direction. This will allow the presentation to float its way towards the held up fish, or the smell of your bait will entice one to rush out and smack that hook!