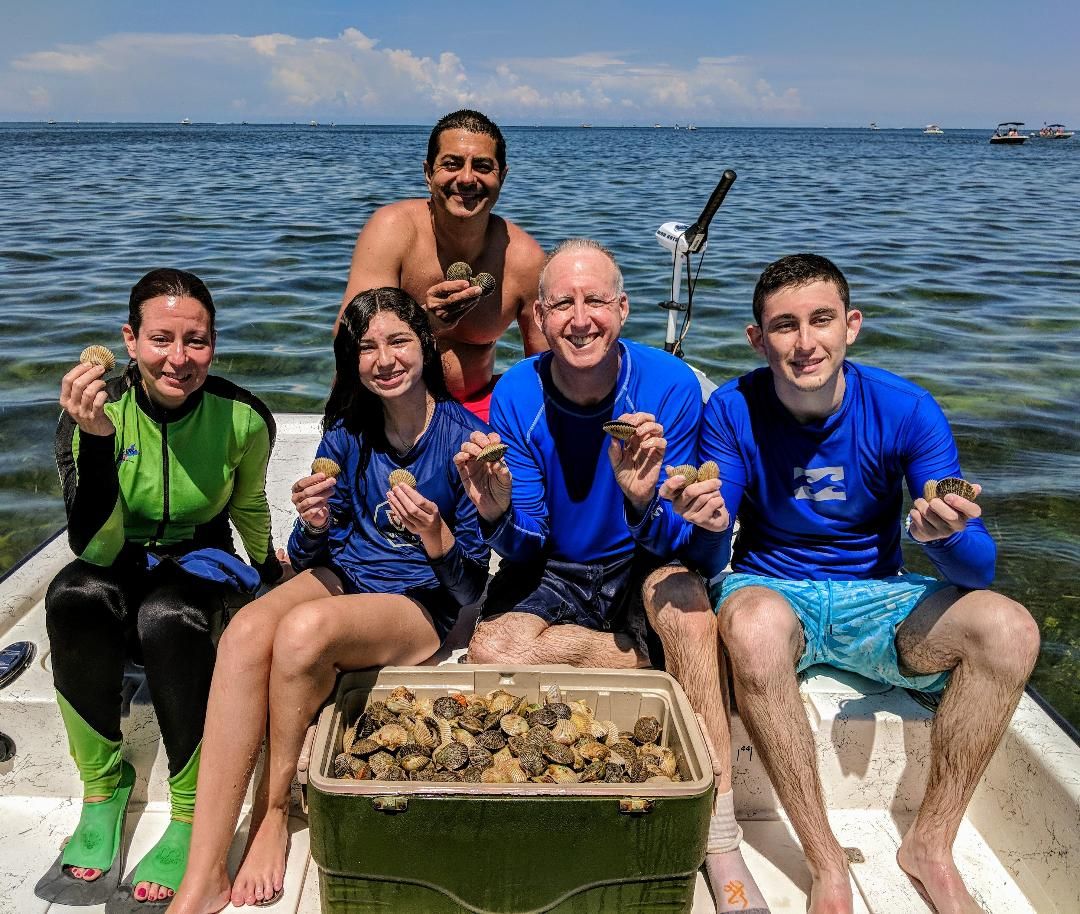 Summertime is right around the corner, meaning longer days, warm weather, and a HOT season for Crystal River scalloping in 2022.  The west coast of Florida is host to some of the most fertile scalloping grounds in Florida, giving residents and visitors ample opportunity to harvest rich bounties of tasty seafood.   
Bay scallops are highly sought-after delicacies easily plucked off the ocean floor.   Getting in on the action is easy and safe, making it an incredible experience for novice and experienced scallopers.
What To Expect on a Crystal River Scalloping Trip
The high sun of the season and the crystal clear water create the perfect setting to hunt for scallops in the shallow waters of the Nature Coast.  After a short boat ride through coastal waters teeming with sea life, scallopers use snorkel gear to search for clusters of mollusks on the seafloor while enjoying the abundant sea life that Crystal River waters offer.  
Once you locate scallops, you'll dive down to your target, scoop them up with your hands and place them into your mesh bag.  It's like an Easter egg hunt in the sea that ends with a delicious seafood meal for everyone to enjoy!
 Special note:  Visitors should be careful to follow guidelines and regulations on harvesting limits. 

Scalloping is the perfect way for a group to enjoy a day on the water.  Almost all skill levels can participate in some way, shape, or form, making it an ideal way to enjoy quality time with family and friends.  Days are relaxing and laid back yet full of the thrill of the hunt bringing smiles to everyone involved.
At the end of your scalloping day, head back to shore, where you'll need to clean your bounty.  Luckily, there are a wide variety of places that offer a cleaning service, so you don't have to worry about the work involved in preparing your catch.  Check out area hotels, many of which offer this service for between $30 and $35 per five-gallon bucket.
Caring for Your Catch
Once you've captured your bounty of scallops, the ideal way to keep them fresh is to put them into a livewell.   Placing scallops on ice before cleaning them is a great way to make them easier to open and clean. The cold temperature causes the muscle to relax, making them easier to open.  Knives or spoons are often used to open shelves and clean out the contents for meal preparation.

How do Scallops Taste?
Simply put, scallops taste amazing!  There are plenty of different ways to prepare them, but grilling and frying are two of the most popular ways to cook up these mouth-watering seafood treats.
When To Start Planning
Scalloping is a very popular pastime in Crystal River. Demand typically outpaces supply when it comes to charter captains, so reserving your trip dates early is essential. Additionally,  accommodations in Crystal River are plentiful but heightened activity during the summer months means high occupancy rates, so advanced planning is recommended.   
That said, you can check out real-time availability here on this page.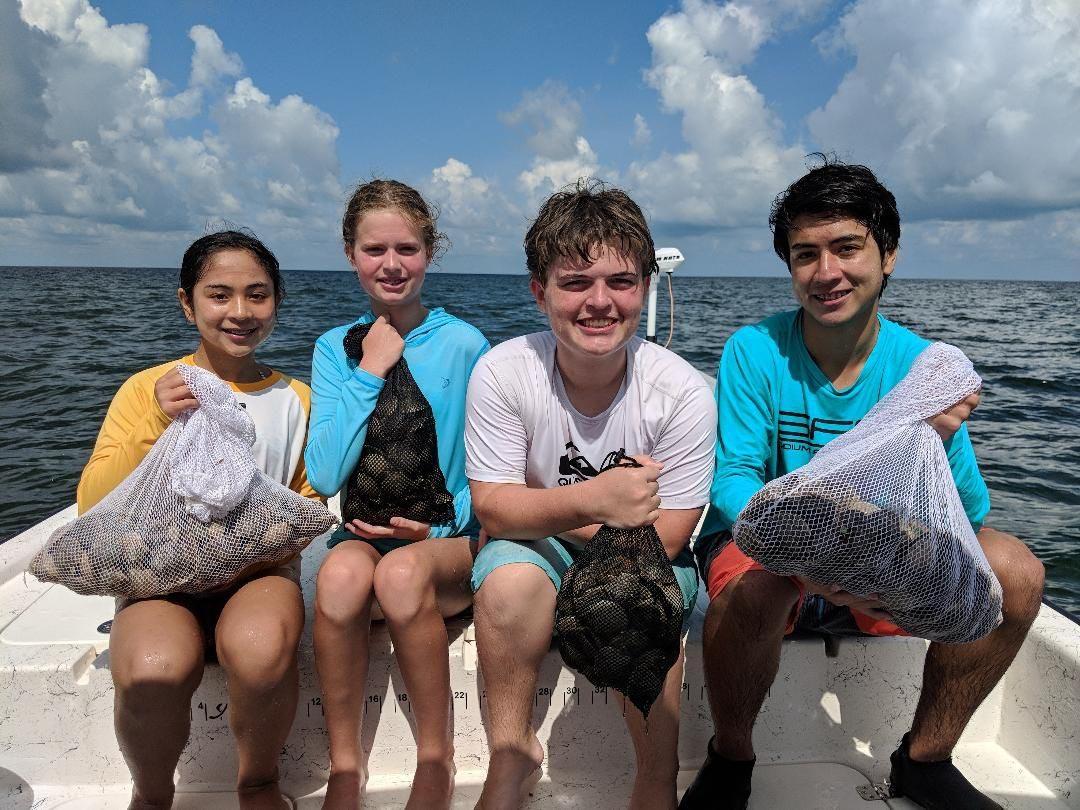 Scalloping season runs from July 1 through September 24, 2022.   Most people start planning well ahead,  usually 3 to 6 months in advance of the start of the season. However, if you're looking to get in on the action and later in the planning process, don't worry, as cancellations or trip modifications may free up charter and lodging space.

See Also: Crystal River Scalloping Charters for complete information.
Places To Stay
There are many area hotels and accommodations available in the Crystal River area.   Finding ones in close proximity to scalloping grounds adds value to your trip and saves travel time.  The following is a sample of hotels and other accommodations that are close to fishing grounds:
The Kings Bay Lodge

Sawgrass Landing Condos

The Plantation

The Best Western

Twin Rivers Marina
Florida Fishing Adventures also has our own "Client Condo." That info is available here.
If you plan to stay at the Holiday Inn Express or the Hampton Inn, you get a 15% discount when you book a scalloping trip with us.

Final Word
Florida is world-renowned for scalloping for many reasons making it a top destination for enthusiasts from all over the country.   The subtropical climate combined with an ecosystem rich with prolific numbers of scallops makes Crystal River an ideal spot for scallopers to visit.
There are many different ways to experience scalloping.   Chartering a boat and captain makes trips to the Nature Coast for scallop exploration and harvesting enjoyable and carefree.
Florida Fishing Adventures is the premier provider of scalloping adventures in the Crystal River area.  Captain Louie's years of experience in coastal waters provide him with unique insight into the waters of the west coast of Florida.  He has a passion for the water and loves sharing his love of the ocean with others.  
Get in touch with him today to learn more about his amazing trips so he can put you on the path to have the time of your life!
You can also Reserve Your Spot Today