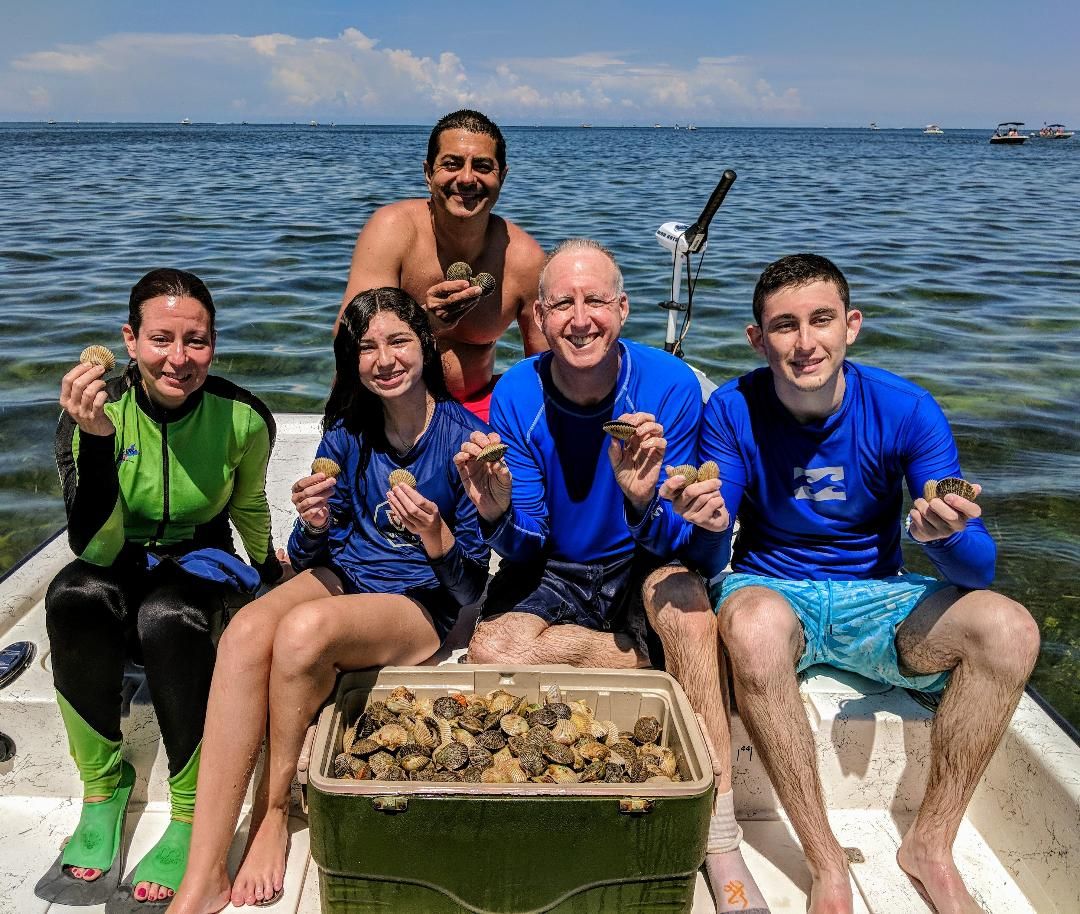 It's summer and, along the nature coast, that means scalloping season is here! In the Crystal River area, the bay scallop population is healthy and abundant. It's a time of year marked on calendars all up and down Florida's Gulf coast – Crystal River is one of the best areas to go scalloping inside of crystal clear waters.
What To Expect
Scalloping in Crystal River takes place in generally shallow water (2-7 feet deep), with snorkel gear, and in the company of amazing wildlife. This is a family-friendly event that is highly considered one of the best coastal trips you can go on.
During the warm weather here during the summer months, spending the day in the pristine coastal waters, swimming amongst sea turtles and fish, while hunting for bay scallops is one of the best ways to cool off and enjoy your day.
Once on the scalloping grounds, you will swim in the area looking for pockets of scallops scattered around the bottom. Once spotted, everyone swims down and begins picking them up. It is that easy!
Once you have your harvest and you have headed back in, it is time to clean your catch. Thankfully many places in the area offer this service, including area hotels (see Places To Stay below). For instance, the Best Western and The Plantation charges $30 per 5-gallon bucket.

When To Start Planning
The time is now. These trips fill up fast and securing your date with a quality area guide is key. It can be hard during the peak of the season to find anyone available at a moment's notice. The scallop season in Crystal River lasts from July 1 through September 24 and planning should be done with plenty of lead time. That said, you can check out real-time availability here on this page.
See Also: Crystal River Scalloping Charters for complete information.

Places To Stay
There are many area hotels and accommodations available in the Crystal River area. That said, some have better access to the fishing grounds.
These include:
Twin Rivers Marina
The Kings Bay Lodge
The Plantation
The Best Western
Sawgrass Landing Condos
Florida Fishing Adventures also has our own "Client Condo". That info is available here.
If you plan to stay at the Holiday Inn Express or the Hampton Inn, you get a 15% discount when you book a scalloping trip with us.
For questions, details, or help planning, please Contact Us.