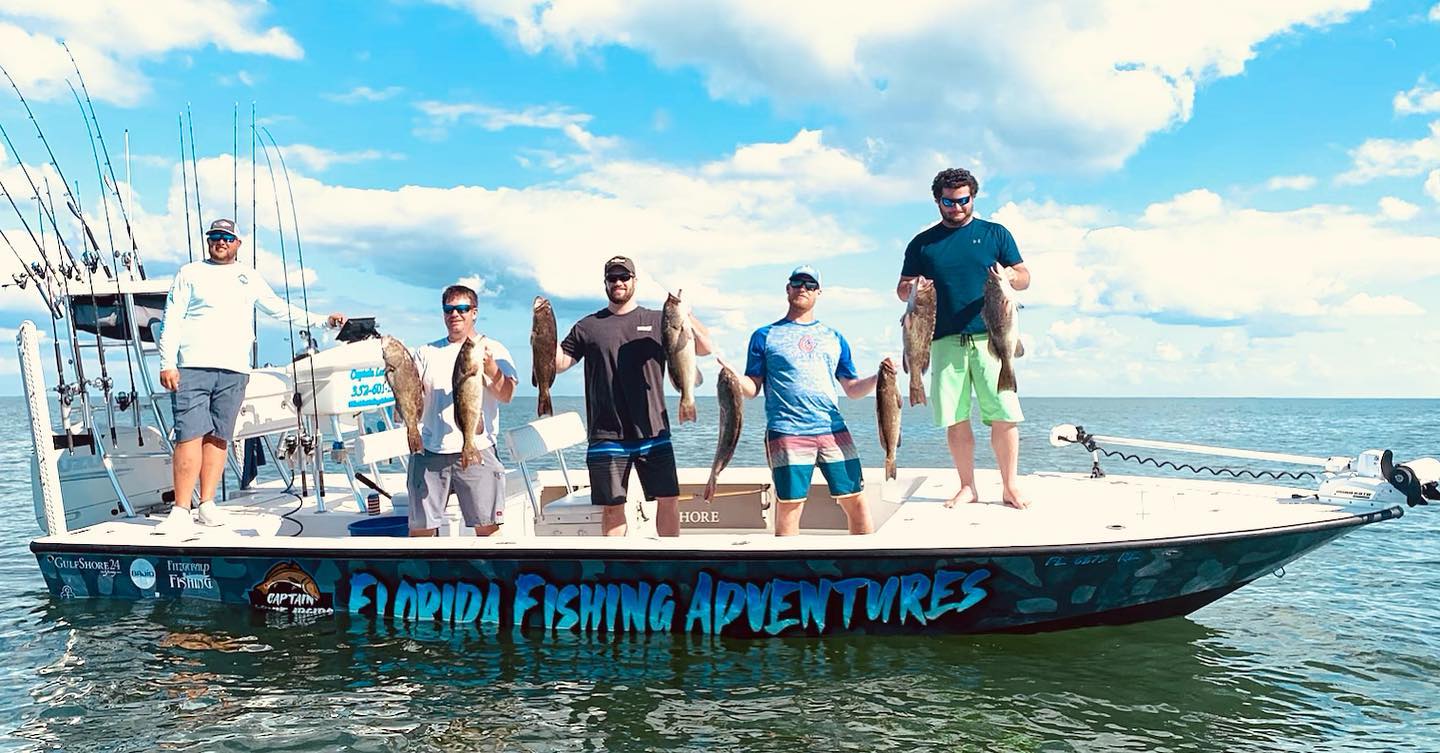 Last Updated on March 21, 2022 by Eric Bonneman
Citrus County is the home to a TON of great inshore fishing providing visitors with incredible opportunities to get in on some of the best saltwater action in the country. 
The Nature Coast of Florida tops the list of every fisherman's dream destination with abundant shallow-water habitats teeming with loads of popular species.  
Florida Fishing Adventures offers first-rate trips in the shallow waters of Crystal River and Homosassa, giving anglers a chance to experience nature in the raw while enjoying extraordinary inshore fishing.   

What Is Inshore Fishing?
Inshore fishing focuses on shallow-water ecosystems populated by certain species of fish.  Most inshore fishing occurs in water that is less than 8 to 10 feet deep and occurs within a few miles of the coast. 
Common Inshore Fishing Areas
Some of the most common areas that we focus on during our trips are
Large Grass Flats

Rivers

Oyster Bars

Creeks

Mangrove Lines

Species We Target
The most popular shallow-water species near Crystal River are:
Snook

Flounder

Redfish

Black Drum

Seatrout

Tools of Our Trade: Our Boats
We are well-stocked with some of the best boats for any shallow-water excursions in the Crystal River area.  Our incredible fleet of watercraft includes:
Young Boats Gulshore 24 – Perfect for almost any depth that we fish, the  Young Boats Gulshore 24 is manufactured locally in Citrus County with care and attention to detail that's second to none.   This remarkable boat features an enormous fishing deck and a full tower so we can locate fish fast and efficiently.

Custom Carolina Skiff – We had our Carolina Skiff specially designed for our particular style of fishing.  With a huge casting platform and 6-inch draft, this boat is perfect for skinny water fishing.  

Cotton Mouth Mud – See below!
What Happens When There's (Virtually) No Water?
The tides have a considerable effect on water depth in the coastal water of Crystal River.  But, no worries when the tide is low; we've got you covered!   Wintertime can be a challenging time to reach fish tucked into backwater creeks where tidal influences result in extremely shallow water.   Our unique Cotton Mouth Mud Boat is the only way we can get to secret stashes of fish during certain times of the year.  These boats are essential to our success and are true "difference makers" for shallow water fishing in Crystal River.
The Bottomline
If you're looking for one of the best fisheries on the planet, look no further than Florida's Nature Coast.  Whether you have a lifelong interest in fishing or are new to the sport, Florida Fishing Adventures has the perfect trip for you and your family or group of friends.  We look forward to treating you to a fantastic charter trip in Crystal River to give you a fantastic shallow water adventure that you'll never forget!