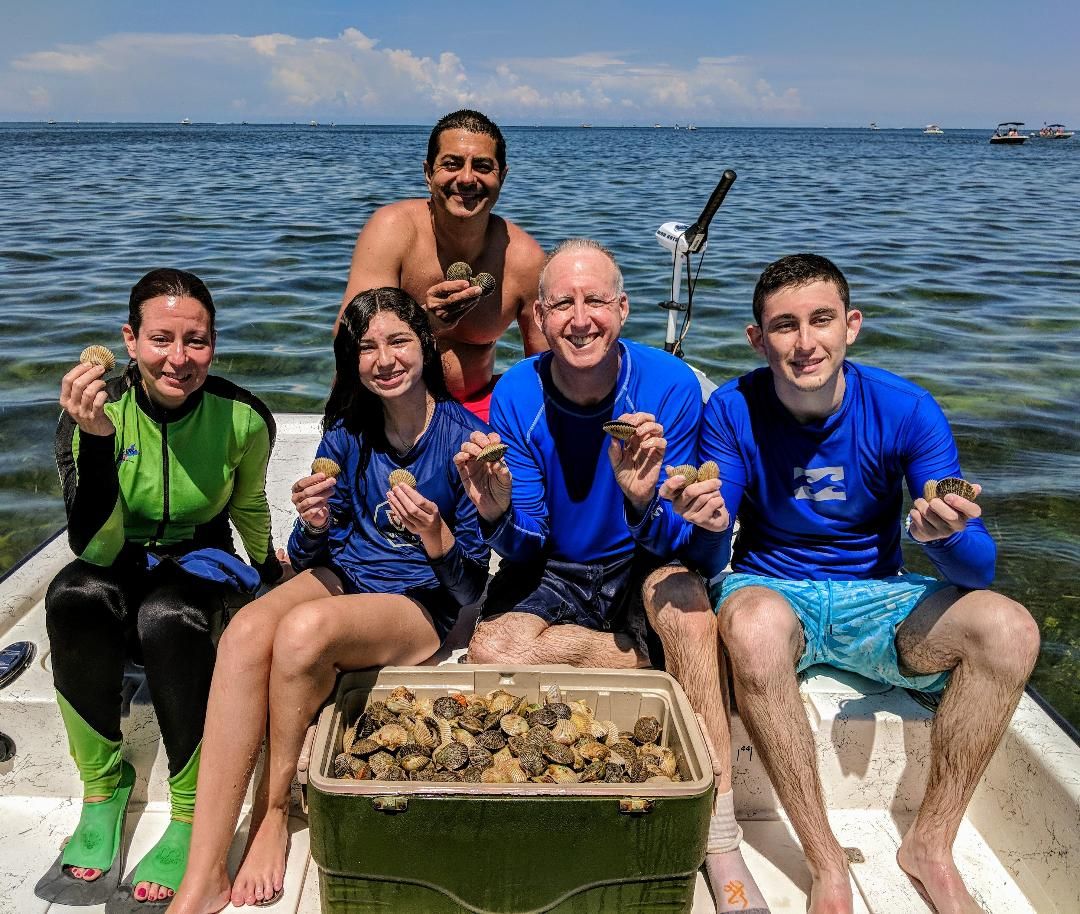 Last Updated on June 22, 2023 by Eric Bonneman
Florida, the Sunshine State, is a treasure trove of natural beauty and maritime bounty, well-endowed with pristine beaches, warm crystal clear waters, and a vast array of sea life. Yet, among all these gifts, one underwater activity stands out — scalloping.
The Unparalleled Allure of Scalloping
Scalloping offers a unique blend of water recreation and hands-on seafood gathering. It's akin to an underwater Easter egg hunt, only this time, the hidden treasures are the delicate and tasty Bay scallops.
Bay scallops (Argopecten irradians) are small, usually, palm-sized scallops native to the eastern seaboard of the U.S. What sets them apart from other scallop species is their strikingly beautiful and colorful shells, varying from deep purples and blues to earthy browns, and their sweet, succulent meat. Found primarily in seagrass beds, these marine bivalves have a limited season, typically starting in July and ending in late September, adding to this maritime pursuit's allure.

A Scallop's Paradise: Florida's Best Spots
Florida offers several ideal locations for scalloping, with the most bountiful areas stretching along the Gulf Coast. Below, we delve into the locations continuously providing the best scalloping experiences.
The Nature Coast: Crystal River and Homosassa
Often referred to as the heart of Florida's scallop country, the Nature Coast, primarily Crystal River, and Homosassa, is a scalloping haven. With its clear, shallow waters and expansive seagrass beds, the region provides an ideal habitat for Bay scallops. The exceptional visibility of the water allows for an engaging scalloping experience as you spot, snorkel, and scoop up the beautiful mollusks.
Moreover, scalloping in Crystal River and Homosassa is more than just the chase. The area, rich in biodiversity, guarantees a plentiful catch and a nature encounter like no other. While on the hunt, you may find yourself swimming alongside manatees, dolphins, and a myriad of fish species.
Steinhatchee
Further south from the Nature Coast, the quaint fishing town of Steinhatchee offers another excellent scalloping location. Steinhatchee, a Native American word meaning "river of man," has waters brimming with Bay scallops during the season. This small town, steeped in fishing tradition, has made scalloping an integral part of its community, with the annual Fiddler Crab Festival celebrating the bountiful catch.
St. Joseph Bay
St. Joseph Bay, located near Port St. Joe and Cape San Blas, is another scalloping hotspot. The bay's isolation from urban areas creates a unique, serene scalloping experience. St. Joseph Bay is known for its clear, shallow waters and variety of sea life. As a bonus, the scallop season in St. Joseph Bay usually starts a few weeks earlier than in other locations.
Florida Fishing Adventures: Your Gateway to an Unforgettable Scalloping Experience
Scalloping is more than a pastime; it's a quintessential Florida adventure, connecting you with nature in the most thrilling ways. Amid Florida's many scalloping locations, Crystal River and Homosassa on the Nature Coast stand out, offering an unparalleled scalloping experience.
While you can venture out on your own, there's something genuinely enriching about being guided by someone who knows the best spots, understands the tides, and can easily navigate the waters. That's where Florida Fishing Adventures comes into play.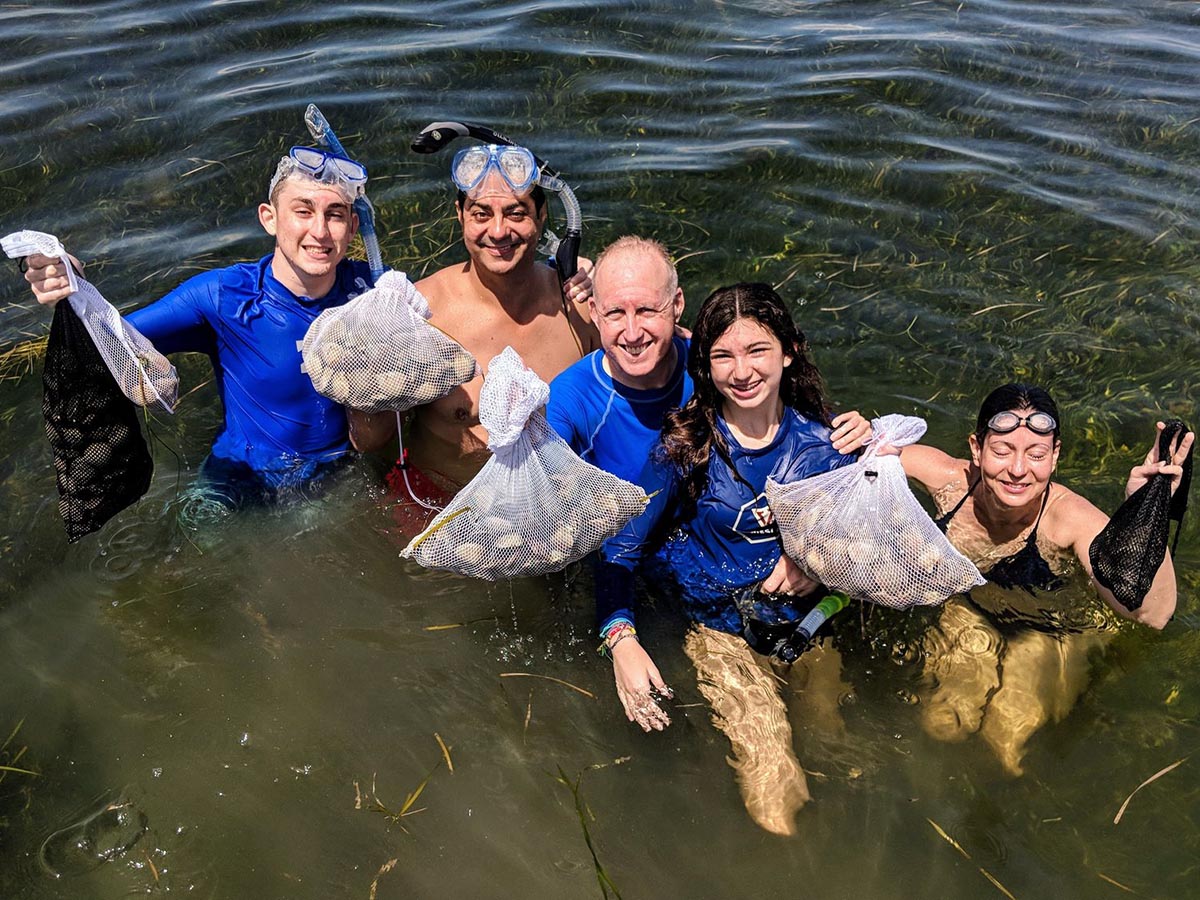 Operating in Crystal River and Homosassa, Florida Fishing Adventures combines local knowledge and scalloping expertise to provide an unforgettable experience. Our seasoned guides are adept at navigating these waters and pinpointing the choicest scalloping spots. You're not just booking a trip; you're ensuring a successful scallop hunt immersed in the stunning natural beauty of the Nature Coast.
Florida Fishing Adventures is your gateway to the magical underwater world of Bay scallops in the heart of Florida's scallop country. Ready for a maritime adventure like no other? Dive into the crystal-clear waters of Crystal River and Homosassa. Let Florida Fishing Adventures lead to your most memorable scalloping experience yet. Book your trip today!