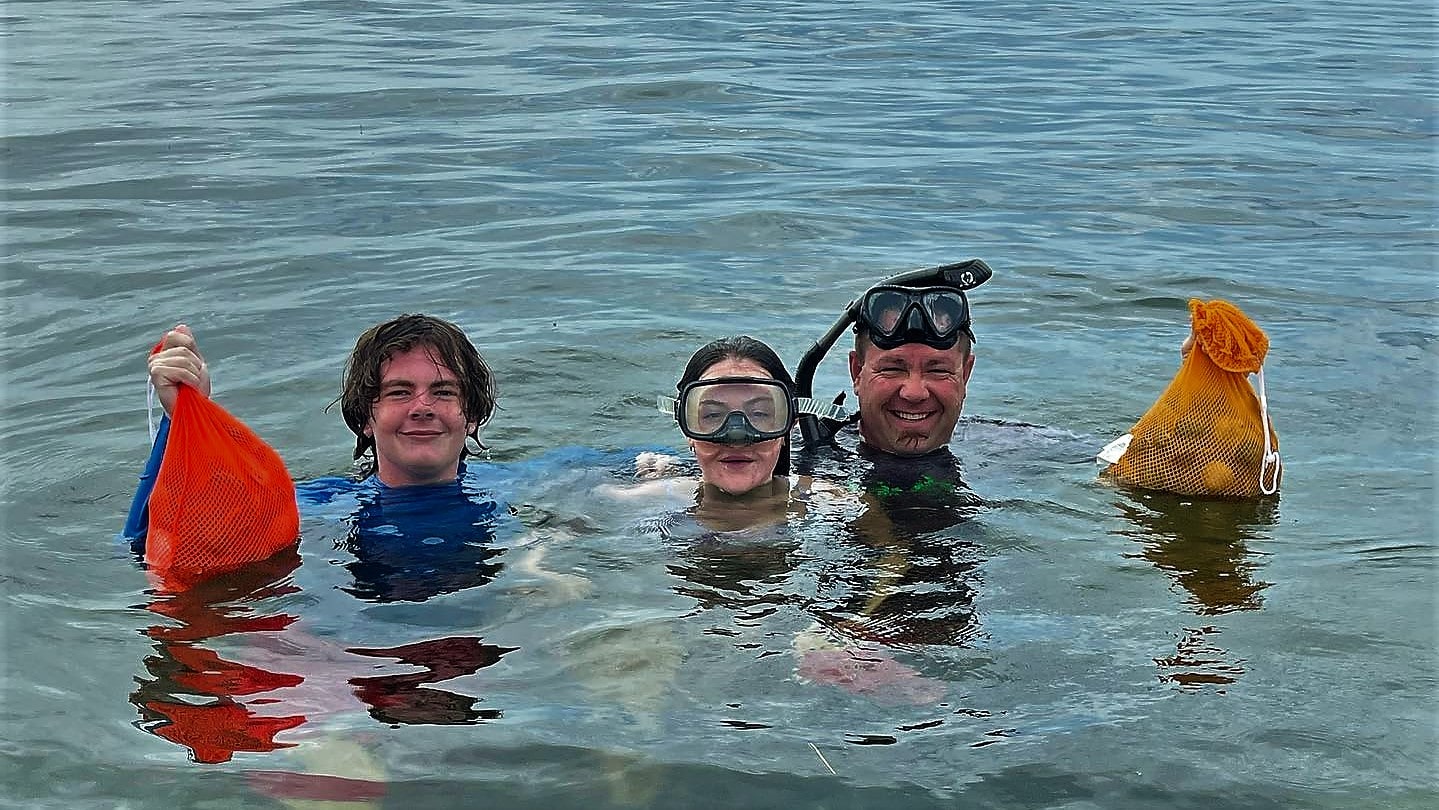 Last Updated on April 26, 2022 by Eric Bonneman
Scalloping is a fun and relaxing way to experience Florida's Nature Coast by boat. It is an activity that almost anyone that can swim can enjoy. The small shellfish annually migrate onto the beautiful grass flats just off the coast of Crystal River and are most easily found in 2-7 feet of water. Each scallop has a muscle attaching the two shells that are fantastic to eat. Find a bunch and you can have a great meal. Scalloping is not at all difficult but a few tips will increase your success and the fun you have while out there. 
First, get comfortable in the water with your snorkel gear on. Although swimming in the flats is safe, some people feel apprehensive about being in the new environment. Before beginning your hunt for scallops, familiarize yourself with the snorkel gear by getting in the water and swimming around the area. As you get used to breathing through the snorkel, submerging and clearing your snorkel, and looking around the area to get used to the immersive experience. Now is a great time to check the fit of your mask, if it's fogging up, if your snorkel is placed correctly, and if your fins are tight enough.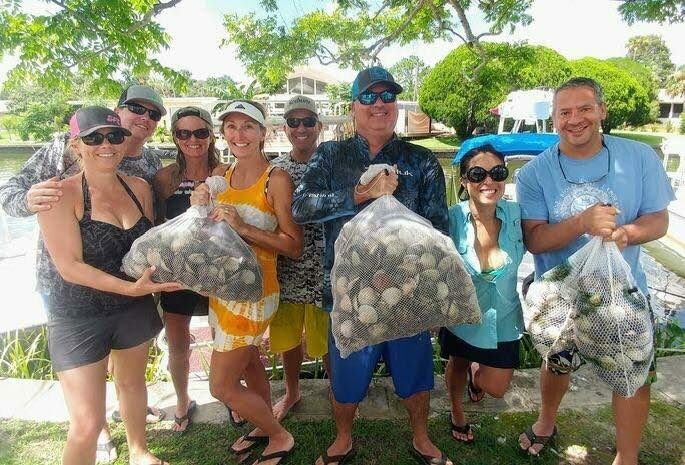 Now that you are comfortable in the water with your gear, it's time to start exploring the area to find the scallops that are laying amongst the grass. Your captain will show you what to look for…some people can easily see the shell pattern while others key in on the iridescent blue eyes along the gap in the shell. Either way, start shallow and begin slowly swimming at the surface and studying the bottom. The scallops can be anywhere on the grass flat. 
One technique to get started is to find gaps in the grass, such as sandy patches and study the area to find your first scallop. Once you find one, spend some time in that area to find more, as they are often grouped in areas.  Place the scallops in your mesh bag and continue the process. If it's your first time, make sure to take breaks and hydrate, as it is easy to get worn out quickly. 
Generally, you will want to pick a search pattern to make sure you are covering new ground. Some people choose an out and back approach, where you swim away from the boat for a couple of hundred feet, then move over 10 feet or so and head back to the boat. This technique will maximize the area covered in your hunt.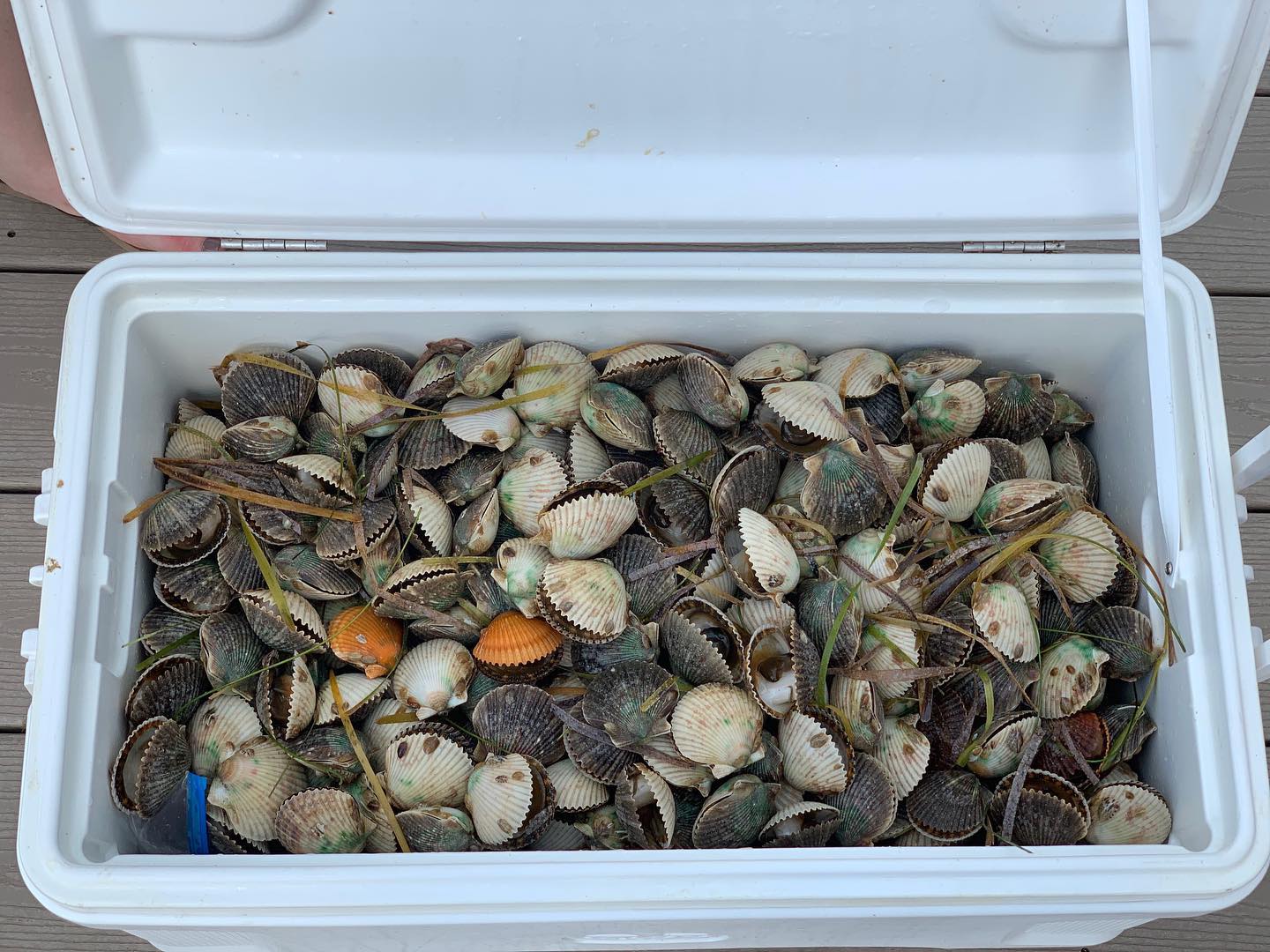 With Florida Fishing Adventures, Captain Louie Argiro has lots of experience helping people be successful on their first scalloping trip. If you have questions before or during your charter trip, make sure to ask him for advice. Scallop season starts July 1 and runs through September 24. Make your scallop charter reservations now, as available days will book up in advance of the season.