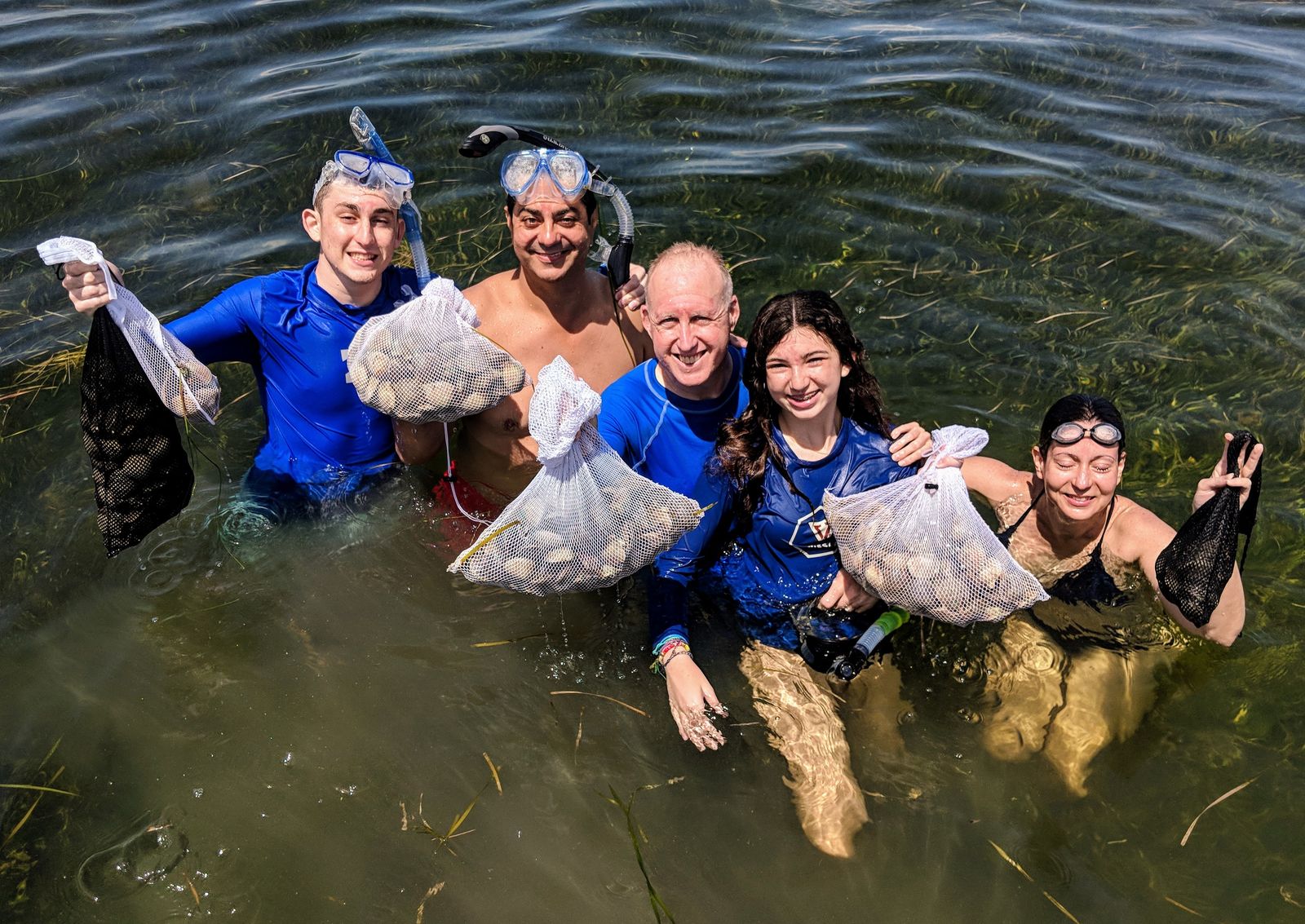 Every summer, along Florida's coastline, scalloping season kicks off on the scalloping grounds located between Gulf and Pasco Counties. This activity is popular with locals, the adventurous, and families alike. It is an underwater scavenger hunt for some of the best-tasting morsels found along the ocean floor. The best part is that this takes place in shallow and easy to access areas. Scalloping takes minimal gear, little experience, and is a great way to spend a warm summer day.
The 2022 Florida Scalloping Season
The Florida Fish & Wildlife Commission has set the season dates for the 2022 Scalloping Season. There are a few different regulated areas and each have their own specific dates.
2022 Scalloping Season Dates By Florida County
The scalloping season dates by county are as follows:
St. Joseph Bay & Gulf County: Aug. 16-Sept. 24, 2022
Franklin County through northwestern Taylor County (including Carrabelle, Lanark, and St. Marks): July 1 through Sept. 24, 2022
Fenholloway through Suwannee Rivers Zone (including Keaton Beach and the Steinhatchee area): June 15 through Labor Day 2022
Levy, Citrus, and Hernando counties (including Cedar Key, Crystal River, and Homosassa): July 1 through Sept. 24, 2022
Pasco County: July 16-25, 2022
The FWC Regional Bay Scallops Season Map For 2022
To better understand where these areas are, here is the official FWC Scalloping Season Map

Closed Harvest Areas
The FWC has closed harvest areas labeled "study areas" where Bay Scallop populations are considered to be in a fragile state and are monitored. These are:
Pensacola Bay (Santa Rosa and Escambia Counties)
St. Andrew Bay (Bay County)
Anclote (Pasco and Pinellas Counties)
Tampa Bay (Pinellas, Hillsborough, and Manatee Counties)
Pine Island Sound (Lee County)
*The FWC does allow the direct transit of legally harvested bay scallops through closed areas.
Understanding Bay Scallops
Bay Scallops (scientific name Argopecten irradians) are found along Florida's Gulf Coast spanning between Pensacola and the Florida Keys. Alongside, there are smaller, more localized, populations that can be found in Florida Bay. Most of these areas have a very delicate balance between ecology and populations which is why you cannot harvest Bay Scallops from all of these locations.
What Is A Bay Scallop?
A Bay Scallop is a Mollusk that falls into the class Bivalve. Bivalves are simply shelled creatures with two halves. They are bottom dwellers that are usually found in 4-8 feet of water. They feed by opening their shells and filtering small pieces of organic matter and algae. They can grow as large as 3 1/2 inches and live as long as 2 years. The average Florida Bay Scallop harvested is generally smaller, with a maximum average length of 3 inches and a 1-year lifespan.
How To I.D. A Bay Scallop
Most of us have a pretty decent picture of what a scallop, in general, looks like – similar to the Shell Gas Station logo.
Their top shell is usually a dark color, to aid in camouflage from above, while the bottom half is more of a bright yellow or orange color. They also have several bright blue eyes that can be seen from a short distance, while their shell is cracked open. As you approach closer, they will close these and the string of little blue dots will disappear. To note, if a Bay Scallop feels threatened, it can propel itself backward away from the incoming threat.
2022 Florida Scalloping Regulations
Due to Bay Scallop populations in each individual area as found by the FWC's population surveys, there are a few regulations that you must be aware of. Also, commercial harvesting of Bay Scallops is not currently allowed, only recreational harvesters are permitted.
License Requirements
Scalloping in Florida is a form of fishing. In this, it requires a Florida Saltwater Fishing License. As stated by the FWC, "(A saltwater fishing license is) required to take or attempt to take saltwater fish, crabs, clams, marine plants or other saltwater organisms."
The current rates are as follows:
Resident Annual: $17.00
Resident Five-Year: $79.00
Non-Resident Annual: $47.00
Non-Resident 3-Day: $17.00
Non-Resident 7-Day: $30.00
For those who will be hiring a local fishing guide, who is a licensed Captain in Florida, your fishing license is already covered during your trip – you will not need to purchase your own.

Gear Requirements
The FWC has set a few basic gear regulations, and the overall required gear list is fairly short (and inexpensive). These are listed below under the How To Harvest Bay Scallops section. According to FWC – harvest is only allowed by hand or by using a landing/dip net.
Bag Limits
Just like the season dates, bag limits are regulated differently in each area. To note, there are no size regulations (no minimum or maximum size). Also, vessel limits do not allow you to exceed personal limits.
Gulf Through NW Taylor Counties and Levy through Pasco Counties
Each person can have up to 2 gallons of whole bay scallops in the shell (or 1 pint of bay scallop meat, shucked). The vessel maximum is 10 gallons of whole bay scallops in the shell (or 1/2 gallon bay scallop meat, shucked).
Fenholloway through Suwannee River Zone
*This area has changing bag limits based on dates
June 15-30, 2022:
Each person can have up to 1 gallon of whole bay scallops in the shell (or one cup meat, shucked). The vessel maximum limit is 5 gallons of whole bay scallops in the shell (or two pints meat, shucked).
July 1-Labor Day 2022:
Each person can have up to 2 gallons of whole bay scallops in the shell (or 1 pint of bay scallop meat, shucked). The vessel maximum limit is 10 gallons of whole bay scallops in the shell (or 1/2 gallon bay scallop meat, shucked).
How To Harvest Bay Scallops
Harvesting Bay Scallops is a fun and fairly easy method of fishing. While doing so, in many of the scalloping locations, you will be immersed in amazing natural surroundings and have the opportunity to swim with sea life. Spotting turtles, manatees, and dolphins are all possibilities along Florida's gulf coastline.
Method
Once on the scalloping grounds, the hunt begins. Scallopers hit the water and hunt the bottom looking for scallops. In general, once the first is spotted many more can be harvested from that immediate area. While in the water, most choose a mesh bag to store their catch of scallops while swimming around, they are then transferred to a cooler once back on the boat.
Once you've run out of scallops in that spot, you move to the next (unless you've already hit your bag limit).
Gear
To get in the water and harvest scallops you will need to be able to get around and see. Basic snorkel gear covers these needs.
Here is a complete list:
Mask
Snorkel
Fins
Mesh Net (to store your harvest)
Dive Flag (for safety)
Florida Scalloping Grounds
The areas in which scallops are found along Florida's Gulf coast are based around localized populations. They each share some common characteristics that you should be on the lookout for. These include shallow depths (4-6 feet of water) and dense grass bottoms.
Crystal River, Florida
Crystal River is one of the most popular destinations for visitors to the state, as well as locals within the state looking for nearby scalloping grounds. This part of Florida is located along The Nature Coast. In this, there is an amazing inshore ecosystem that provides both amazing scallop habitat as well as wildlife viewing and immersion opportunities. The scallop populations are healthy and the water is clear and temperate. You can learn more about our guided scalloping trips, here.
Homosassa, Florida
Homosassa is another popular destination for much the same reason as Crystal River. To add, both areas have expansive beds of seagrass and are river-fed. Homosassa has a more historic Florida vibe and appeals to those looking for that experience.
Port St. Joe, Florida
Port St. Joe is located between Mexico Beach and Cape San Blas. This area is considered "The Forgotten Coast" and can provide a great scalloping experience. Interestingly, as of the last population count performed in 2019 by the FWC – scallop populations have exploded in this area.
Keaton Beach, Florida
Located within Taylor County, Keaton Beach is another popular scalloping destination. The grass beds here are expansive (made up of both Manatee and Turtle grass). This area can also get crowded with boats where scallops are found, for best results you may want to consult with a local in order to find areas with less competition on the scalloping grounds.
Hernando Beach, Florida
Hernando Beach, located with Hernando County, is considered the furthest south area to find prime scalloping grounds. This area is home to nearly 250,000 acres of coastal grass beds where scallops thrive. This is also part of the same ecology that is shared by its neighbors to the north, Crystal River and Homosassa.

Resources
If you are looking for more info, we have a few resources below for you to dive further into.
Hiring A Local Guide
This is an important topic as it can make or break your scalloping trip. Hiring a guide is one of the best ways to go scalloping for both visitors and those new to this type of fishing. It takes local knowledge and study to know where to head for a day of scalloping and local guides are your key. When looking for a guide you will want to find one who is a USCG licensed Captain, has years of experience in your chosen area, and has a list of verifiable reviews that are easily found on 3rd party websites.
We offer guided scalloping trips in Crystal River and meet all of the above-mentioned requirements. You can even reserve your scalloping adventure online, and in real-time – here. If you need help planning or have any further questions regarding guided scalloping trips in Crystal River – Contact Us.
Further Reading
Crystal River Scalloping Season 2022
How To Catch, Prepare, and Cook Crystal River Scallops
Visitors Guide To Crystal River Scalloping
Important Links