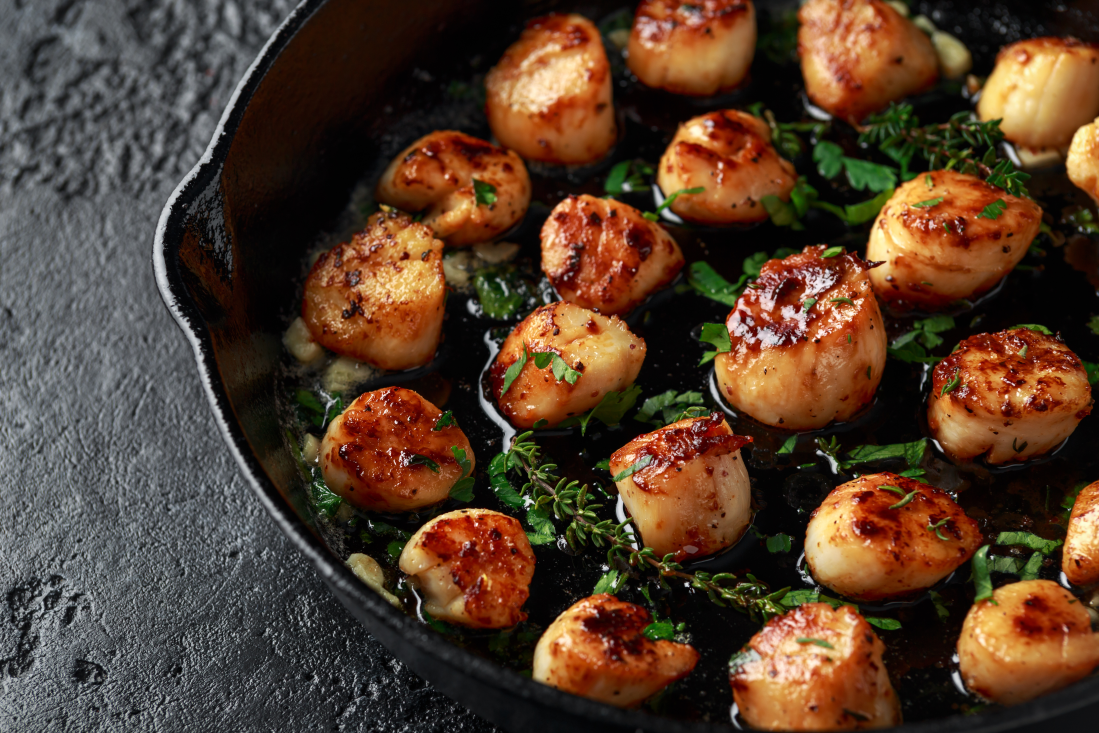 Last Updated on July 17, 2021 by Eric Bonneman
Scallops in Crystal River are coastal Bay Scallops. These tasty nuggets are fun and easy to catch, clean, and cook yourself. This is a highly popular activity that is fun for friends and family. It is one of the best ways to spend those hot summer days along The Nature Coast.
Harvesting Scallops In Crystal River
Scallop season in Crystal River, in 2021, is from July 1st through September 24th. This is the only legal time to harvest scallops. This activity is also considered fishing, In this, it also requires a fishing license. Harvest is permitted only by hand or by using a landing or dip net. Bag limits in Crystal River for scallops are 2 gallons of whole bay scallops in the shell or 1 pint of bay scallop meat per person, with a vessel limit of 10 gallons of whole bay scallops in the shell or 1/2 gallon bay scallop meat.
Gear
Scalloping takes place in shallow coastal waters. In Crystal River, these waters are fairly clear, temperate, and have grassy/sand bottom. A simple snorkel set (mask, snorkel, and fins) will be all that you need to get in the water.
That combined with a mesh bag for placing your scallops in while snorkeling, a cooler or bucket to keep them in on the boat, and a boat ride out will complete your needs.
Method
You will need to have some knowledge of the scalloping grounds or be with someone who has it, in order to find the best harvesting locations. Once there, swimmers hit the water in their snorkel gear and begin the hunt. Scallops will be laid up at the bottom and once found you will usually find yourself in the company of about 30 or so more.
Then, you simply start picking them up and placing them in your mesh bag. Once the area seems void, you will then move on to a new spot. If you've reached your bag limit, then it's time to go (home or fishing).
Cleaning Scallops
Cleaning scallops is a fairly straightforward activity. But, if you wish, there are services that do the cleaning for you. For instance, if you are staying at the Best Western, they charge $30 per 5-gallon bucket. This rate is about average for Crystal River. However, with a little time and a simple tool, you can get the job done yourself.
Gear
You can use a spoon, butter knife, or a shucking tool – like this oyster knife. What is really important is that you do not use a sharp object, like a pocket knife. You will be applying pressure towards the palm of your hand and the last thing you want is for it to slip and cut you open – and it will.
Method
Utilizing a simple (blunt) tool of your choice, you will start at the side of the scallop (near the "hinge") and begin prying it open. Once you have cracked it open, you will work the tool all the way around until it is fully open. At this point, you can scoop the meat out. The video below from FWC shows the simple process. After this, they can be rinsed, patted dry with a paper towel, and cooked or froze for later use.
Cooking Scallops
There are literally hundreds of ways to cook scallops – we will go over a few of the main ones below. However, if you want to get a substantial list of recipes for scallops, here is a list from Food Network: Scallop Recipies
For food safety, the internal temperature should reach 145 degrees F according to the USDA – however, you are looking for opaque white flesh with a brown crispy crust to visually inspect for doneness.
Pan-Seared
This is probably the easiest and most common method for cooking scallops. Utilizing oil and/or butter and simple seasonings, this method provides great flavor and the quickest execution. Take a 12-14 inch pan and add 2 tablespoons of both butter and olive oil. Place the pan on high (or just below) and as soon as the oils start smoking, place in the scallops (making sure they are not touching each other). Let them cook for 90 seconds per side (leaving a brown crust on each side) and eat!
Fried
Fried scallops are awesome if you love fried foods. This goes great in combination with a fish fry. This is performed utilizing deep fryer techniques and breading. It is best to research the best method for the tools you have on hand. But simply put, hot oil deep enough for the scallops, breading, and just a few minutes browning – and you are done.
Baked
Baking scallops is another simple and popular method. You can utilize simple seasoning and butter, an oven-friendly batter (or breadcrumbs), or even bacon-wrapped are all possibilities. You would set the oven to 400 degrees in most all cases and then let them cook for about 15 minutes – until browned.
Plan A Trip
If you are new to the area or visiting on a trip, your best bet is to hire a local and experienced scalloping guide. We provide Crystal River scalloping trips every year for hundreds of guests and can accommodate your needs for a day on the water.
When you hire a guide, the fishing license and gear are already provided, alongside local knowledge of the scalloping grounds. And since we also fish, it is possible to do a split between scalloping and fishing in a single trip. This will allow you to take home a bounty from the sea and put together a real Florida seafood dinner.
Learn More: Crystal River Scalloping Charters
Reserve A Trip: Online Reservations
Ask a Question: Contact Us
Further Reading: Visitors Guide To Crystal River Scalloping