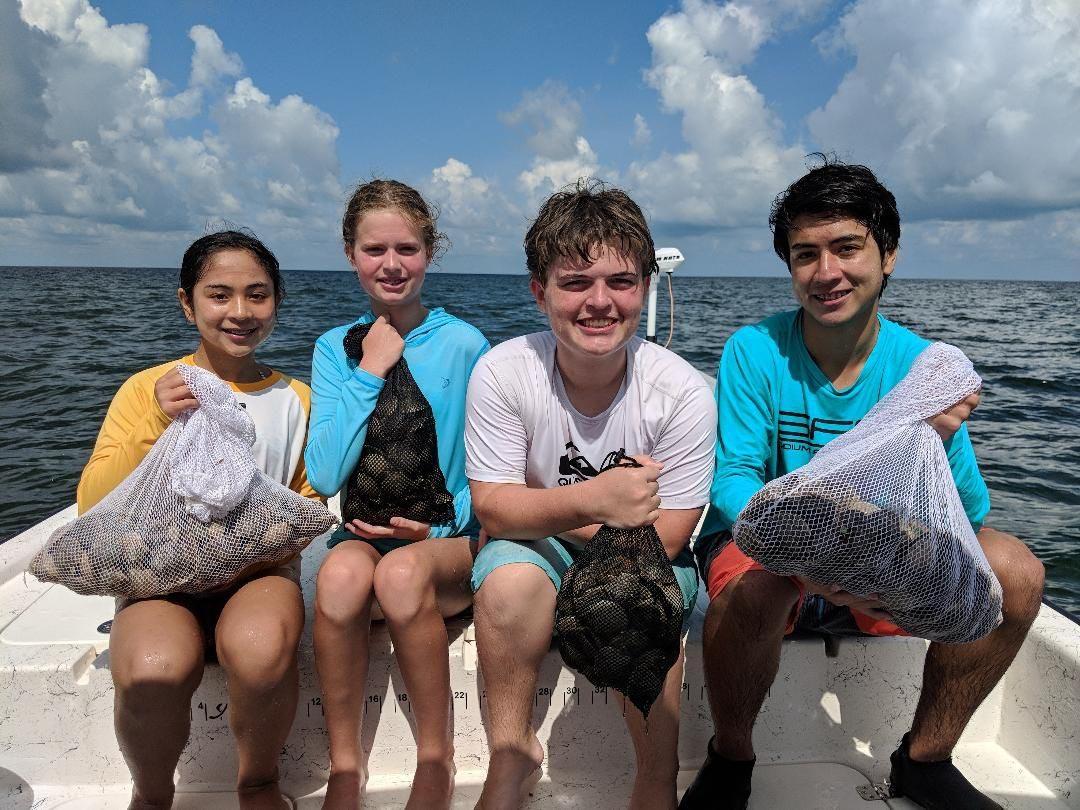 Last Updated on May 20, 2021 by Eric Bonneman
Scalloping season in Crystal River comes around every Summer. It is a time of year loaded with anticipation, great days on the water, and excellent scallop harvests.
Crystal River Scalloping
Crystal River is one of the best scalloping grounds along Florida's Gulf coast. Between warm days, clear water, and refreshing waters – scalloping is a truly unique and fun event.
Alongside, you are surrounded by an amazing ecosystem with awesome sealife viewing opportunities. Spotting starfish, turtles, crabs, and even manatees are all possibilities while on your scalloping adventure. This is one of the best ways to learn why this is called The nature Coast.
When is Scalloping Season In Crystal River?
Scalloping season takes place during the warmer months, mostly during summer. The season dates are July 1 through September 24.
How Does Scalloping Work?
Scalloping is a combination of adventure and treasure hunting all performed with snorkel gear on. This all takes place in shallow water, generally 2-7 feet deep, and is safe for nearly any skill level. When on the grounds, you are set up in areas known to house some of the prolific local scallop populations. You search the bottom looking for those tell-tale shells and once found, you are generally going to be in a group of about 30 or so scallops – in the same spot. You simply reach down and harvest them into your net bag.
Is It A Family Friendly Activty?
Yes. And on that note, it is one of the most popular family-friendly on the water activities one can go on. No matter what the interests are for each individual, between sightseeing, snorkeling, swimming, cooling off, nature viewing, and of course – loading up on scallops, there is guaranteed to be a fit for nearly every family member.
Are The Scallops In Crystal River Safe To Eat?
Yes. Scallops in Crystal River are edible mollusks. They are specifically Bay Scallops. While slightly smaller when compared to their Sea Scallop counterparts, they are considered one of the best-tasting bounties in the water.
Planning Your Trip
Crystal River is one of the most sought-after scalloping areas in the state. It is important to set up your plans with plenty of lead time to make sure you have both a place to stay and a place to scallop on the water.
Finding A Scalloping Guide In Crystal River
A lot of area fishing guides turn to scalloping during the season. Resident guides with many years of experience in the area are going to be key. The best kinds of scalloping guides have a proven track record, study the fishery, and spend every day of the year in these waters. Captain Louie Argiro, here at Florida Fishing Adventures, is just such a local guide. You can check out his reviews on Google and TripAdvisor. You can also see his profiles on both Visit Florida and Discover Crystal River.
Places To Stay
There are many area hotels and accommodations available in the Crystal River area that have great access to both the scalloping grounds and local attractions.
These include:
Twin Rivers Marina
The Kings Bay Lodge
The Plantation
The Best Western
Sawgrass Landing Condos
Florida Fishing Adventures also has our own "Client Condo". That info is available here.
If you plan to stay at the Holiday Inn Express or the Hampton Inn, you get a 15% discount when you book a scalloping trip with us.
Start Planning
We can help you find the right information or locking your trip today.
Make A Reservation: Online Reservations
See Scalloping Details: Crystal River Scalloping Trips
Ask A Question: Contact Us