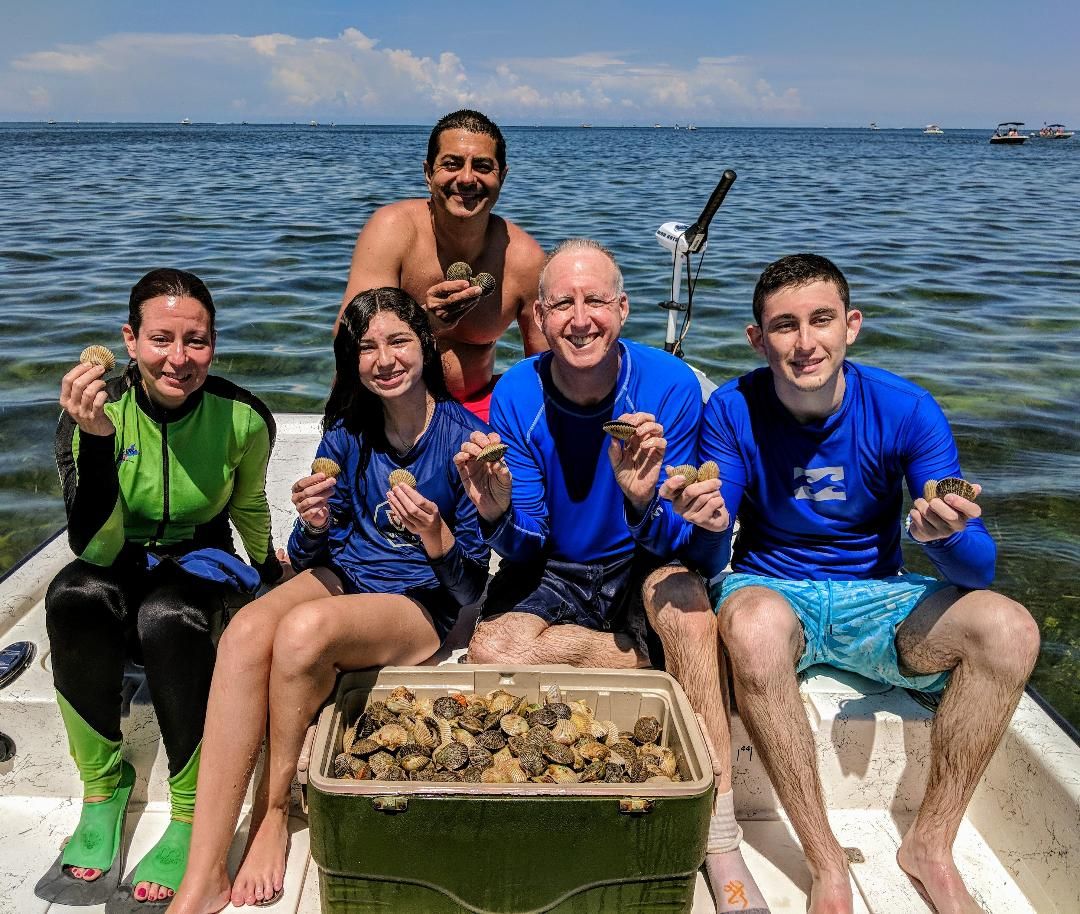 Last Updated on July 7, 2023 by Eric Bonneman
With the sun shining high in the sky, casting a delightful shimmer on Florida's cerulean waters, there's no better time to delve into the age-old tradition of scalloping. It's a joyous combination of snorkeling and treasure hunting, where participants wade through the shallow waters of Florida's coastlines, searching for the delicate, fan-shaped mollusks hidden beneath the sand. Once caught, they transform into the star ingredient in various delicious meals, marking an unforgettable culmination of the day's adventure.
When the Scalloping Season Unfolds
In Florida, scalloping season is a highly anticipated event that traditionally begins on the first day of July. It is a time when families, locals, and tourists alike congregate along the coastal waters with their snorkeling gear in tow. As we find ourselves a week into the season this year, there's still ample time to experience this unique Floridian pastime.

Marking the End of the Season
The end of the scalloping season in Florida is as significant as its beginning. This year, the close of the season falls on September 24th. With a little over two months to go, there's still plenty of time to plan and execute the perfect scalloping trip. Remember, though, that just as the excitement builds up toward the start of the season, it tends to grow even more intense as the end nears. The wise will book their scalloping trips well in advance to ensure they don't miss out on the fun.
Timing Is Everything
While the scalloping season lasts from July through September, timing your trip can greatly enhance your experience. Early in the season, the scallops are generally smaller but more abundant. As the season progresses, the scallops grow larger, providing a meatier reward for those patient enough to wait. Both early and late season offer their unique advantages, making any time during these three months an excellent opportunity to enjoy this recreational activity.
Understanding Regulations and Guidelines
Before embarking on your scalloping adventure, it's crucial to understand the regulations governing the activity. Each person is allowed to collect up to 2 gallons of whole bay scallops in the shell or 1 pint of bay scallop meat per day during the open season. Additionally, no more than 10 gallons of whole bay scallops or half a gallon of bay scallop meat may be possessed on any vessel at any time.
Respecting these regulations not only ensures a fair distribution of resources but also plays a vital role in maintaining the health and sustainability of Florida's scallop population. Violation of these limits can lead to hefty fines and penalties, so be sure to enjoy this unique pastime responsibly.

Make Your Scalloping Adventure Memorable With Florida Fishing Adventures
As we approach the peak of the 2023 scalloping season, there's no better way to immerse yourself in this delightful activity than with Florida Fishing Adventures. Our expert team offers an unrivaled scalloping experience equipped with all the necessary gear, local knowledge, and a strong commitment to safety and sustainability.
Whether you're a seasoned scalloper or a curious first-timer, we cater to all levels of experience. Our guides provide insightful tips and guidance to ensure you have a fruitful and enjoyable scalloping trip. From helping you identify the best spots to guiding you on how to catch scallops, we ensure every moment of your trip is a memorable one.
So, why wait? The sun is shining, the water's clear, and the scallops are waiting. Don't let this season pass you by. Experience the thrill of the hunt and the satisfaction of a successful catch. Book your scalloping trip today with Florida Fishing Adventures!