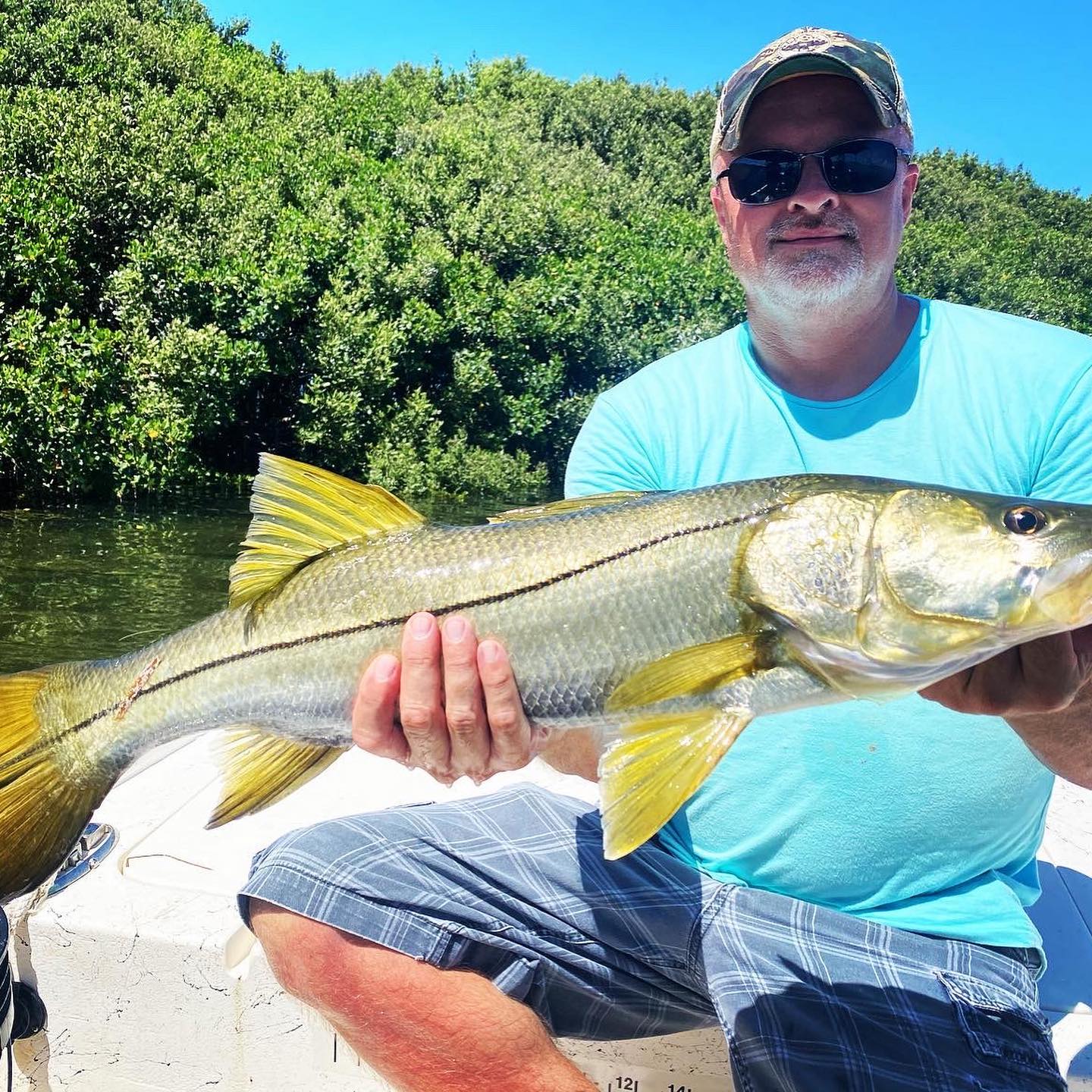 Last Updated on May 10, 2023 by Eric Bonneman
Crystal River, located on Florida's Gulf Coast, offers a diverse and exciting fishing experience. One particularly popular area to fish is the grassy flats, which provide an abundance of fish species and unique underwater terrain. Let's dive deeper into fishing the shallow grassy flats of Crystal River, providing helpful tips and techniques to make the most of your time on the water.
Understanding the Flats Ecosystem
The grassy flats in Crystal River are shallow areas with a mixture of seagrass, sand, and other underwater vegetation. These areas provide important habitats for various fish species, making them ideal fishing spots. Some of the species you're likely to encounter in the flats include:
Take some time to study the flats' ecosystem and learn about the behavior and feeding patterns of the fish you're targeting. This knowledge will help you select the right bait and techniques to increase your chances of success.

Choosing the Right Equipment
Fishing in the grassy flats requires specialized equipment. Here's a list of essential gear for flats fishing:
Rod and reel: Use a lightweight spinning rod and reel combo with a braided line for better casting distance and sensitivity.
Lures: Choose lures that mimic the natural prey of the fish you're targeting, such as shrimp or small baitfish. Topwater plugs, soft plastics, and jerkbaits are popular choices for flats fishing.
Terminal tackle: Bring a selection of hooks, weights, and swivels to adapt your rig to different situations.
Polarized sunglasses: These will help you see through the water and spot fish more easily.
Wading gear: If you plan to wade while fishing, invest in a good pair of wading boots and quick-drying clothing.
Timing Your Trip
As the water temperature increases during the summer months, fish are more likely to be found in the grassy flats. Plan your fishing trip for early morning or late afternoon, when the fish are most active and feeding. Tides also play a significant role in flats fishing, with moving water generally offering better fishing opportunities. Keep an eye on the tide charts and plan your trip accordingly.
Exploring Other Summer Activities: Scalloping
While the grassy flats offer excellent fishing opportunities, Crystal River also boasts a unique summer activity: scalloping. Scallop season, typically from July 1st through September 24th, is highly anticipated along Florida's Gulf Coast. Scalloping is a family-friendly activity that combines the best of snorkeling and fishing as participants swim among fish, turtles, crabs, and, of course, scallops.
To make the most of the upcoming 2023 scallop season, consider a scalloping trip with Florida Fishing Adventures. Scalloping in the grassy flats is a fun and exciting way to explore Crystal River's underwater world.

Get Out There!
For a truly unforgettable fishing experience, consider fishing with a professional guide, such as Florida Fishing Adventures. Their experienced captains have in-depth knowledge of the local waters and can help you navigate the grassy flats and find the best fishing spots. In addition to fishing trips, they also offer scalloping charters during the scallop season, providing a well-rounded and enjoyable experience for the whole family.
Fishing the grassy flats of Crystal River can be a rewarding and memorable experience, especially when you're well-prepared with the right equipment, techniques, and knowledge of the local ecosystem. As the summer months approach, take advantage of the prime fishing conditions and consider adding a scalloping adventure to your itinerary. Book a trip with a professional guide like Florida Fishing Adventures, maximize your time on the water, and create lasting memories in this beautiful coastal region.