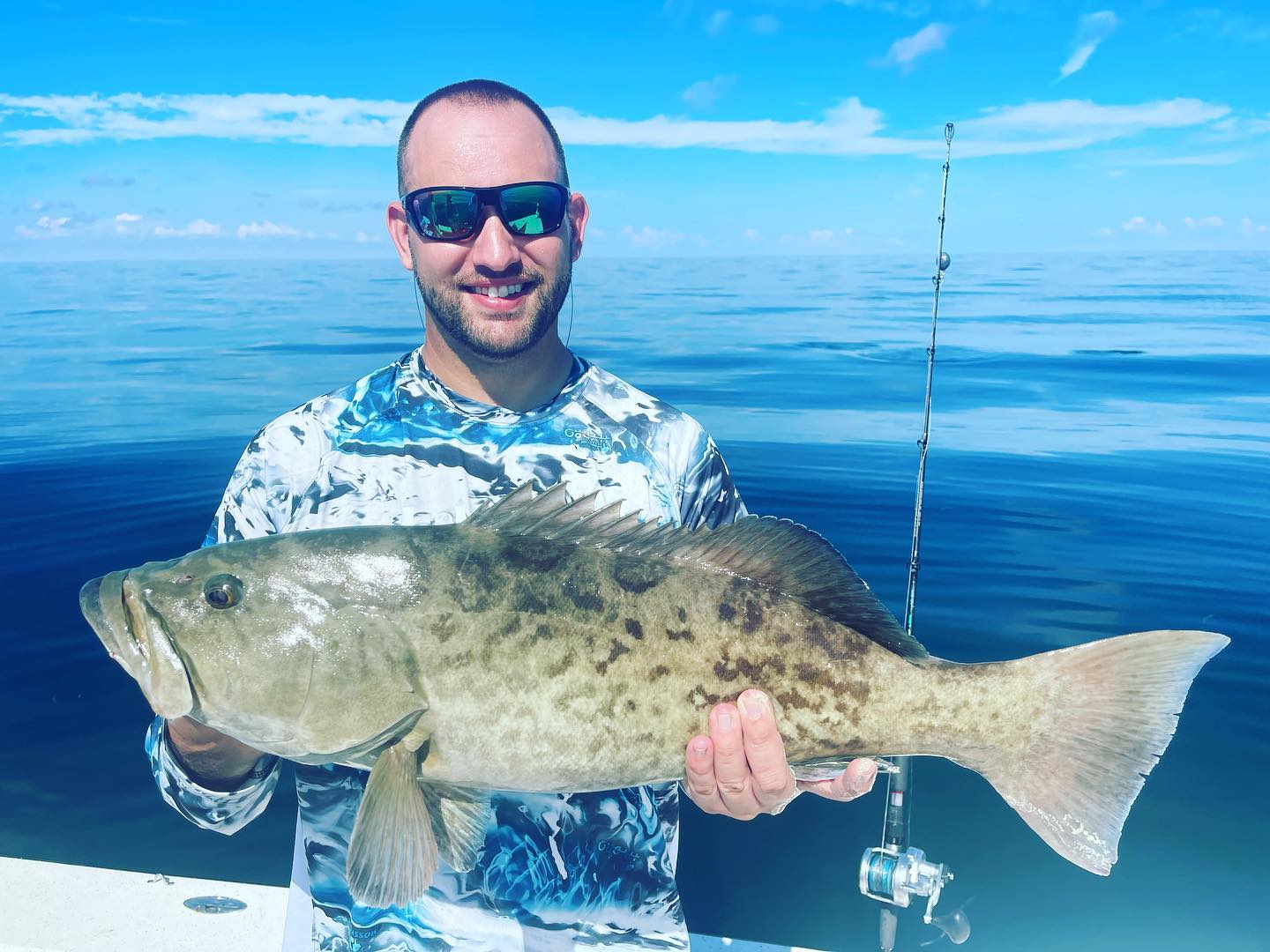 Last Updated on October 20, 2021 by Eric Bonneman
When it comes to Fall fishing along the Florida coast, many will immediately think of big bull redfish, snook in the mangroves, and several other hard-hitting inshore species that make this season great. And, all of that is true here in Crystal River, but we also get to enjoy something else pretty awesome – inshore grouper and snapper fishing of epic proportions.
Fall Fishing For Grouper And Snapper
Great Florida fall weather and awesome shallow-water grouper and snapper fishing go hand in hand in our area. Crystal River is home to a year-round grouper fishery that is just outside of the shallow water flats. In the Fall, grouper fishing heats up and reaches a peak of activity. Alongside, snapper and some of the area's best inshore fish species are available all at the same time.

What Species Of Grouper And Snapper Are Most Popular?
The two most popular species of grouper and snapper in Crystal River are Gag Grouper and Mangrove Snapper. There are others, but these two have the densist population and are the most readily available to target. At the same time, they are some of the best-tasting fish in the ocean and most do just fine with a cooler full of these two.

Can You Fish Grouper And Snapper, And Inshore Species All In The Same Day?
You can, but you must be prepared for a fairly long day of it. The shallow water area that grouper call home in Crystal River is located just outside of the flats in a zone of water at about 8-25 feet deep. This zone is particularly attractive to the species due to its rocky bottom (rock piles). These same underwater structures do attract other species and at times, finding a snook or redfish right here has happened.
More likely you would want to target the backcountry areas for snook and redfish either on the way out to or coming in from the grouper grounds. While the trip itself isn't that long, it does take time to locate and get on the fish. Most of the time our charter clients choose to target grouper specifically, or hit the inshore. In these, some choose multiday charters to have the best experience in both worlds.
All that said, for you hardcore folks that wouldn't mind spending most of the day on the water, you can definitely mix the two. Just bear in mind that you will also need two completely different tackle setups to handle these grouper and finesse popular inshore species.

Get On The Water
Between the weather and great fishing opportunities, this is a time of year that you will want to be on the water. Grouper and snapper fishing is hugely popular for us and our charters fill fast. We have just a few days left in November at the time of this article. But, if you can find a spot and schedule a day with us, I would highly encourage you to do so – this is something you will find yourself planning for next year as soon as you step off the boat. It is that good.
Here are some links to get started:
Learn About Grouper Fishing Charters
Learn About Inshore Fishing Charters
See Realtime Rates, Availability, and Make Reservations