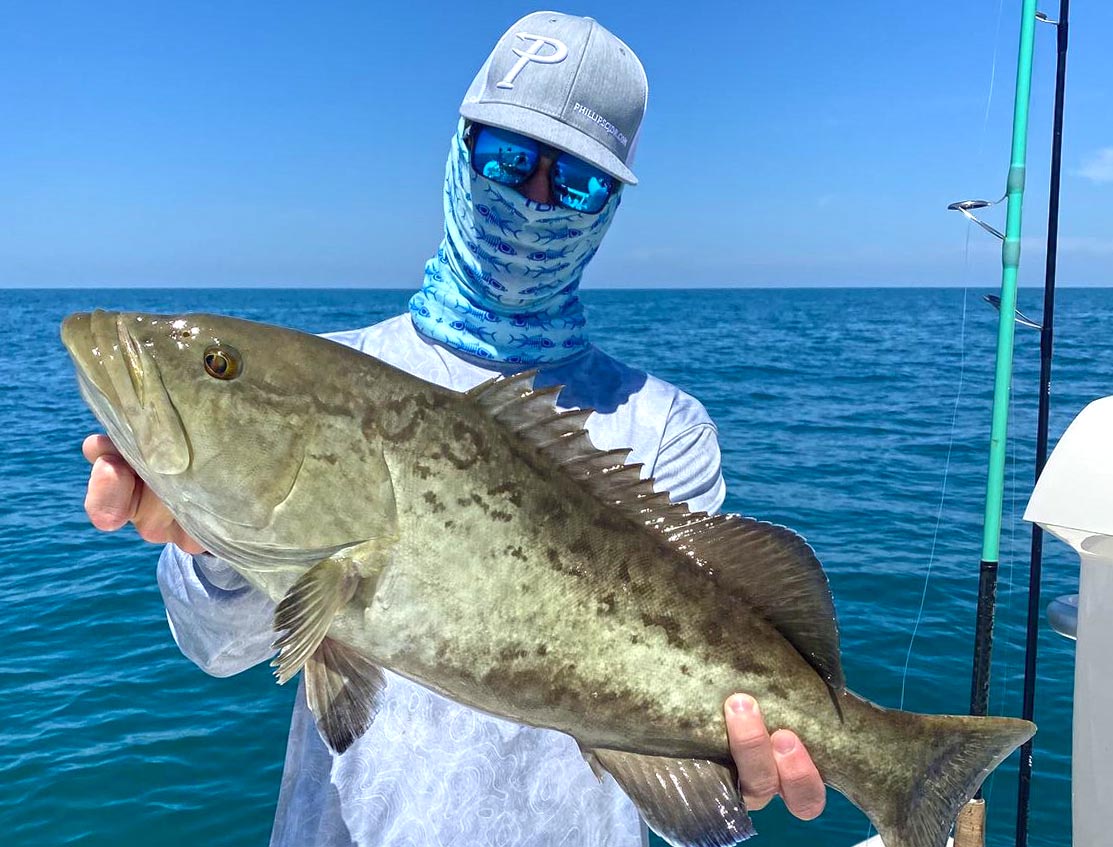 Last Updated on February 11, 2021 by Eric Bonneman
One of the most popular species of saltwater fish to catch in Florida is Grouper. Florida Grouper fishing usually takes place in deeper water, over structure and reefs, but is also highly popular as an inshore species. Grouper are very fun to catch, can offer a battle on a rod, and are one of the best-tasting fish in the ocean.
Grouper In Florida
There are some 159 species of grouper globally, with Florida housing many of the most popular. These include:
Goliath Grouper
Nassau Grouper
Black Grouper
Gag Grouper
Red Grouper
Scamp Grouper
Yellowfin Grouper
Yellowmouth Grouper
Rock Hind Grouper
Coney Grouper
Misty Grouper
Warsaw Grouper
Snowy Grouper
Each of these species falls under different regulations and season dates. For example, while they put up an epic battle, Goliath and Nassau Grouper are illegal to harvest at any time. Florida grouper fishing for species such as Red Grouper and Scamp Grouper is open year round for harvest in state waters, federal waters have separate season dates. To best understand these regulations it is best to visit the FWC Grouper Regulations page.
Florida Inshore Grouper Fishing
With epic battles and general year-round availability, Florida Grouper fishing is without a doubt one of the most popular activities for fishermen in the state. One of the greatest aspects is that you can target these offshore quality fish within the state coastal (shallower inshore waters) with ease. Area's such as ours here in Crystal River makes for a great launch point.
Our season dates for targeting inshore grouper generally run from June 1st to December 31st. That's 6 straight months of amazing inshore Grouper action. While many inshore fishermen see very skinny water flats as the prime place for sight fishing inshore species, targeting grouper generally happens in depths of 8-35ft. This shallow water targeting is a unique aspect of the Crystal River area.

Grouper Baits
Grouper can be targeted on a wide variety of both natural and artificial baits. One of the most popular methods is bottom fishing with either live or cut bait. These baits include:
Pinfish
Goggle Eyes
Pilchards
Grunts
At the same time, an action-packed day of Grouper fishing in Florida can be had with artificial baits. There are many types of jigs and hard plastics that work, we tend to see a focus on shallow diving plugs and casting plugs.
Where To target Florida Grouper
Florida Grouper fishing, whether on the bottom or in the shallows, all involve fishing structure. For bottom fishing, this mainly includes reefs and wrecks. In shallower water, casting plugs at rocks and ledges make for an exciting time as these Grouper smash these plugs then try to deep dive back into the rocks – this is where the battle is. For shallow water bottom fishing, you would look to focus on holes, springs, and reef formations. Almost any underwater structure, regardless of depth, will hold these fish.
Fighting A Grouper
Grouper are known to "dig". What this means is that once they hit your choice of bait, they turn right around for a powerful deep dive back to cover. This reaction is the basis of what makes catching them so much fun. Due to the strength and size of some species, heavier tackle is definitely recommended. Here in Crystal River for instance we utilize 6000-8000 size spinning reels loaded with 60-80lb braided line. These are mounted to heavy action rods with a final leader composed of 80 to 1300lb fluorocarbon.
Your reaction to the hookup will be your greatest asset when attempting to land this species. Florida Grouper fishing can involve hooking up with some powerful giants. In this, a strong reaction is necessary to keep this species from making it back to its rocky cover- and possibly snap the line across a sharp edge.