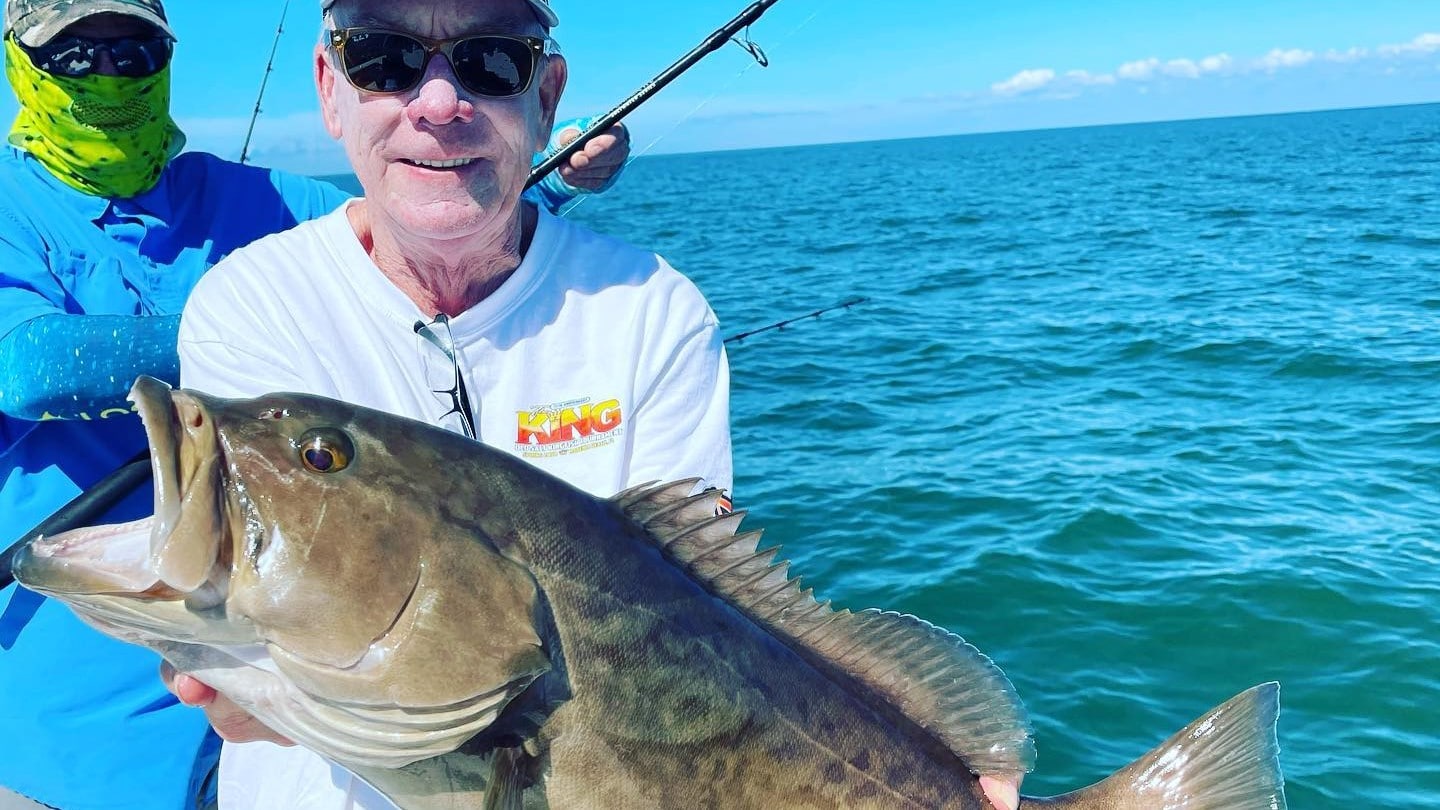 Last Updated on October 13, 2021 by Eric Bonneman
The state of Florida is blessed with several inshore grouper fishing possibilities. This is not the most common method known, and even fewer dedicate to the task. However, if you are looking for offshore quality fish from within just a quick shot of the Florida flats – inshore grouper is the way to go.
Finding Inshore Grouper
Inshore grouper fishing can take on a few forms depending on where you are in the state. We will go over some basics and then focus on our area in Crystal River. But, even when we do that – the same knowledge will apply in nearly all cases.
Grouper like structure and deeper water than what you see on an inshore flat. Water depth will be the first thing to look for. These depths range anywhere from 8 to 30 feet. For most of Florida's inshore fisheries, this water depth isn't too far off from any given flat.
From within these depths, the next thing to look for is structure. In someplace this may be bridge pilings, but in many of the better inshore grouper fishing locations, this will be made up of shallow water rock formations. That said, even fishing the mangroves in Everglades National Park can get you on a grouper. The situation where this works is when a deeper channel exists in front of the mangrove system. Here you find the same ingredients: depth (8ft+) and structure (mangrove roots).
For most, this will be underwater rock formations and shallow water reefs. In any case, a pocket to hide in and a good current in the area will generally be home to a hungry grouper or two.
The time of year can play a role in activity, but this is a year-round endeavor in nearly all parts of the state. Here in Crystal River, the peak time is actually in the Fall.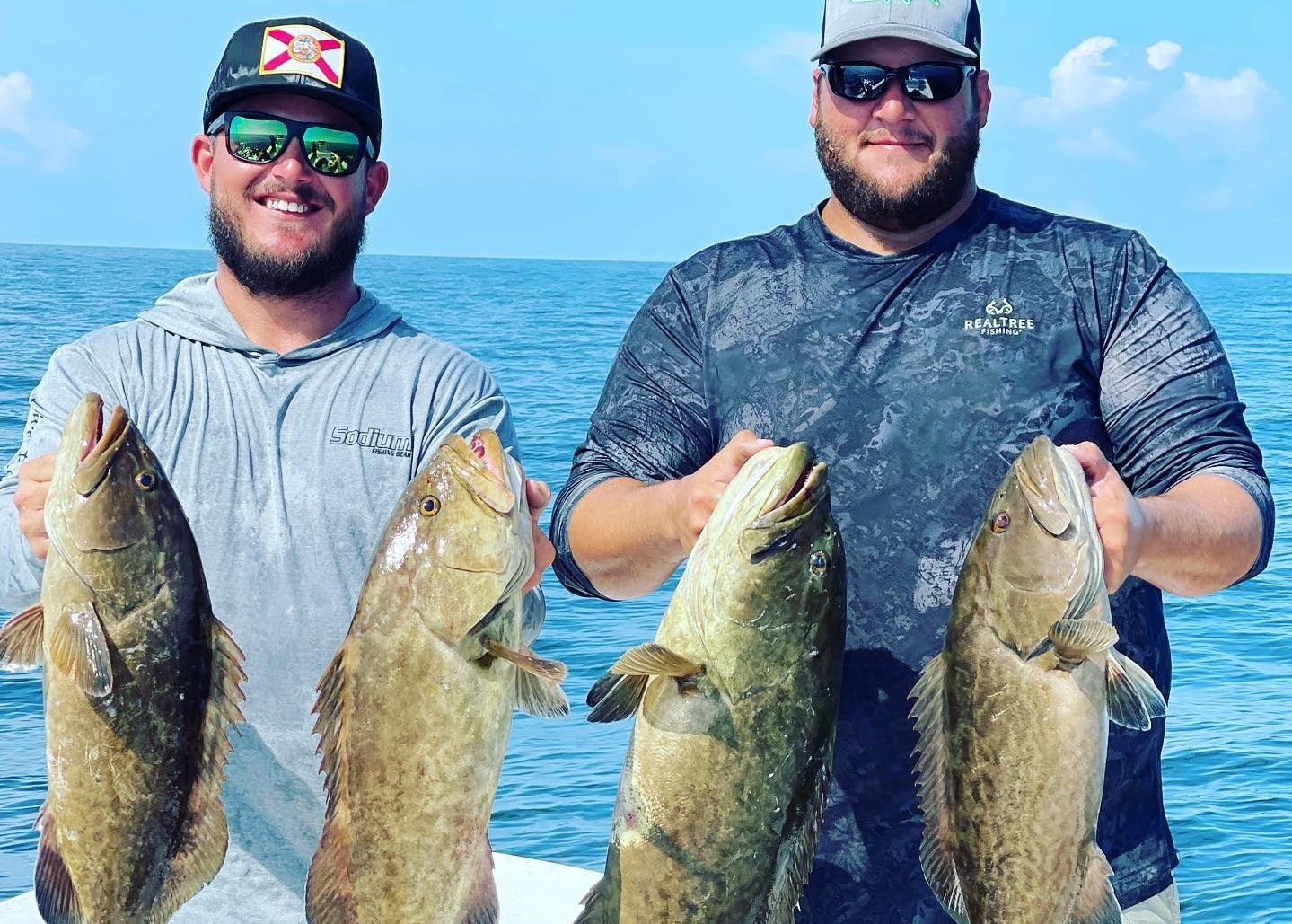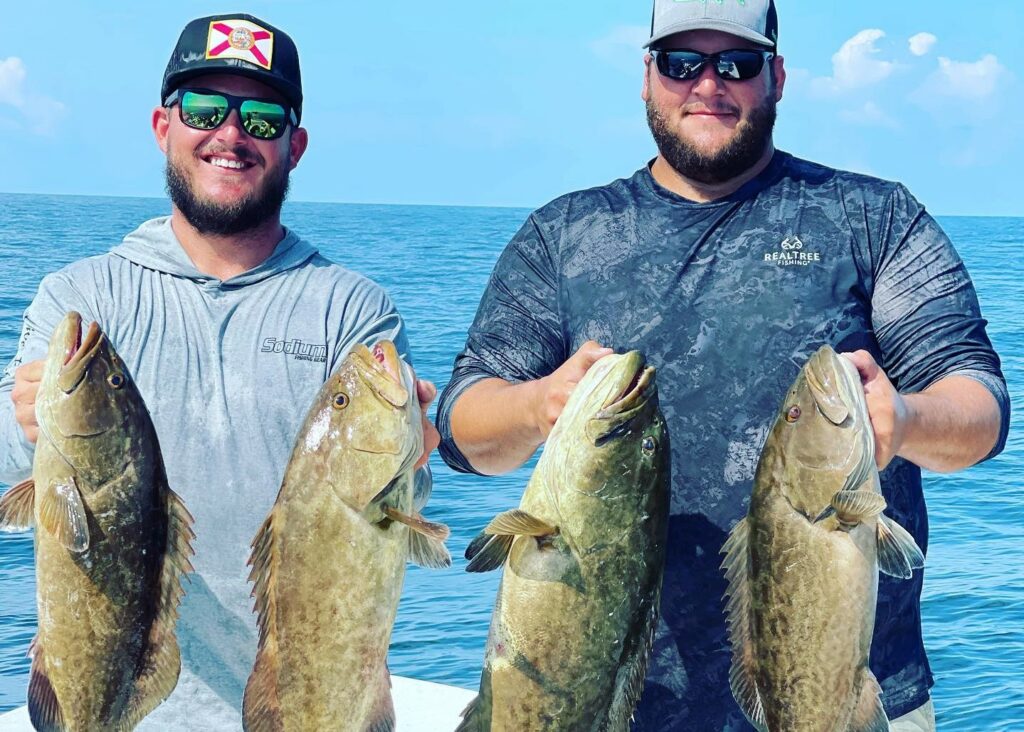 Tackle For Inshore Grouper
Once you've figured out where to fish for inshore grouper, you'll need to make sure you have the tackle setup for a successful landing. This is a hard-charging species that likes to run for cover once hooked and can range in sizes up to over 100lbs – though, the average will be less than 50lb.
With this in mind, you will want a much stouter setup than what you would generally inshore fish with. You'll want a 7-foot medium-heavy fishing pole combined with a 5500 series reel. For line, you'll be looking at 60-80lb braid. Your leader material can range anywhere from 40-100lb fluoro. This will really come down to the type of structure you are fishing and the size of the grouper you are targeting.
Remember, grouper will always dive for cover. When that cover is reefs, wrecks, bridge pilings, or similar – your leader material can take a beating.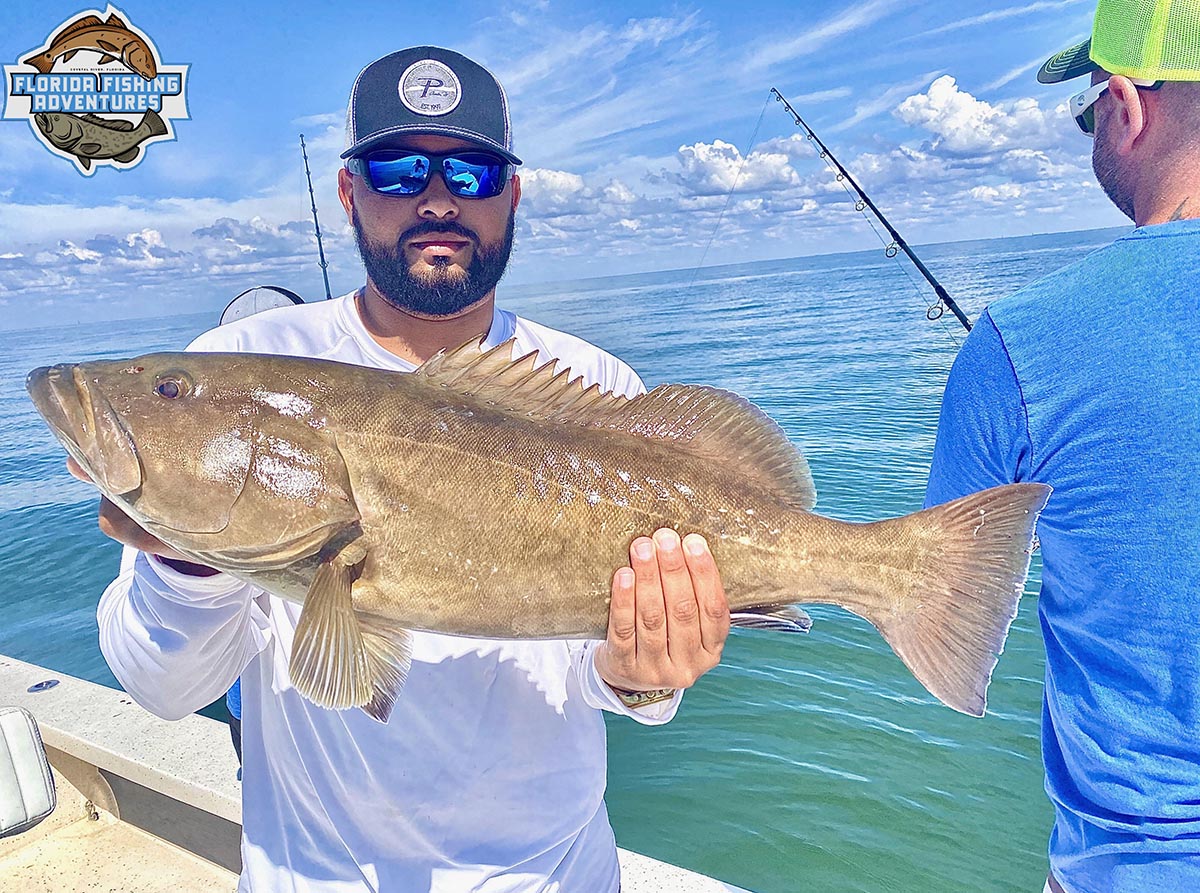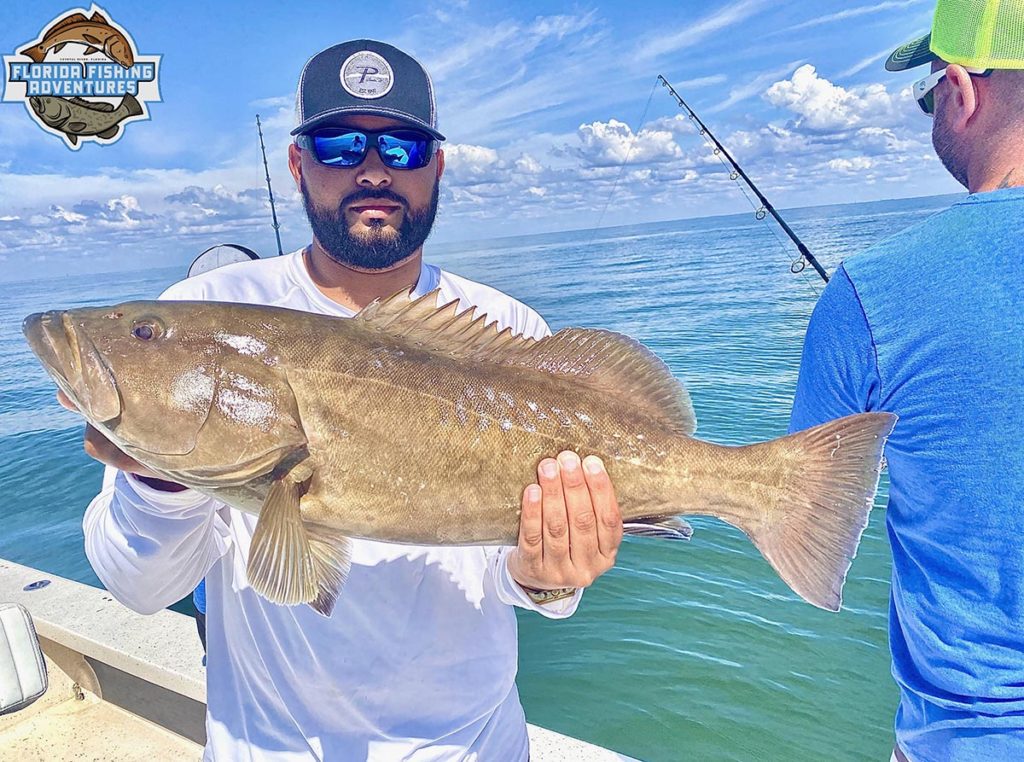 Baits and Lures
When it comes to bait, grouper are not that finicky. Live baitfish of nearly any sort will work, just as long as the grouper can fit it in its mouth. Most of the time this will be whatever bait is running in the area at the time. Getting the bait down to the grouper will take some additional weight. Bait size and current will play a role here, but make sure you are using the least amount that you need to.
Lures will generally take on the form of baitfish as well. This can be accomplished in a few ways. Deep diving plugs are a favorite here, while soft plastics with a jig head will work as well – scented for best results.
No matter which approach you decide to take, always present the offering up current of your structure and work it back into "the hole" you're fishing.
To note, I have even hooked a Goliath on a jig head with a frozen shrimp on it. If given the opportunity for an easy meal – grouper will generally, gladly, take it.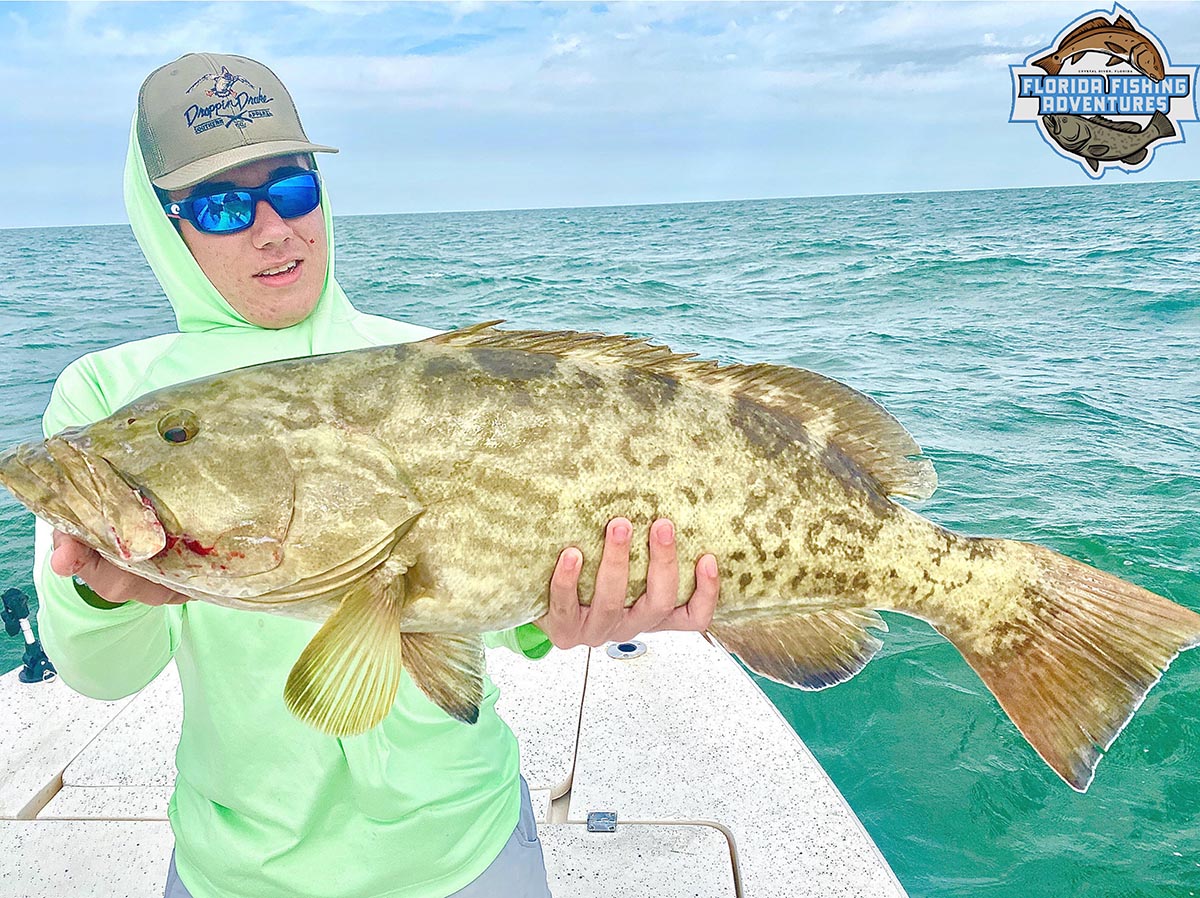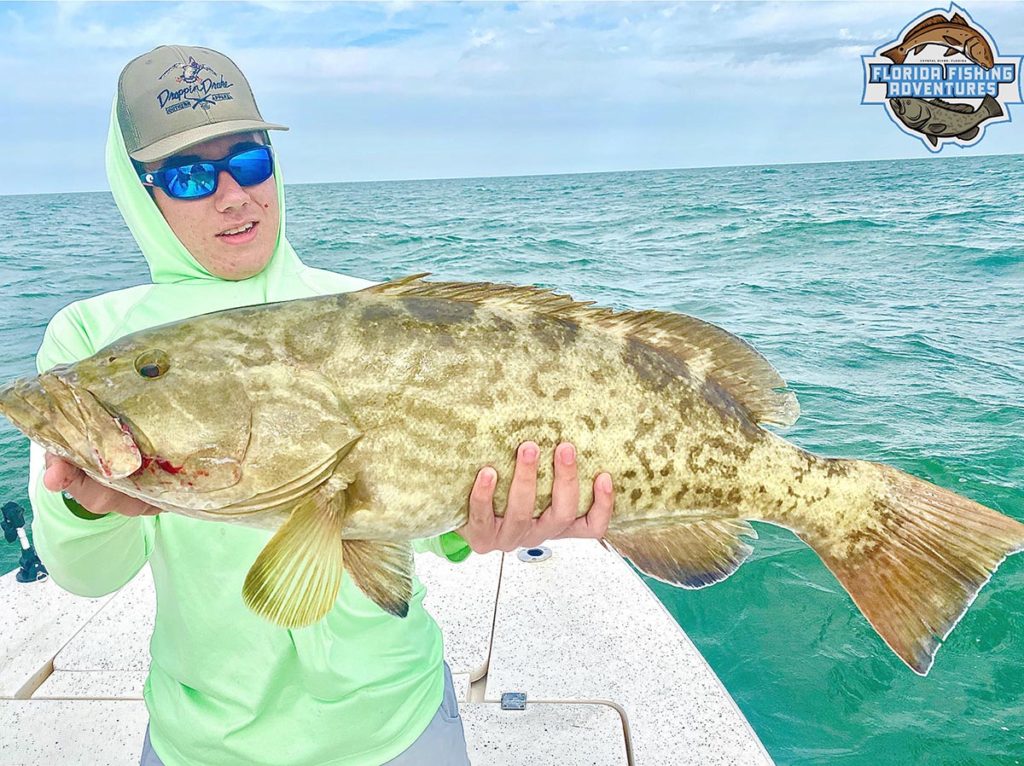 Want To Give It A Try?
Crystal River is one of the best inshore grouper fishing locations in the state. We are steadily taking these trips daily right now and invite you to join an awesome local guide for an epic adventure.
See Inshore Grouper Fishing Charter Info
See Rates, Availability, and Make Reservations