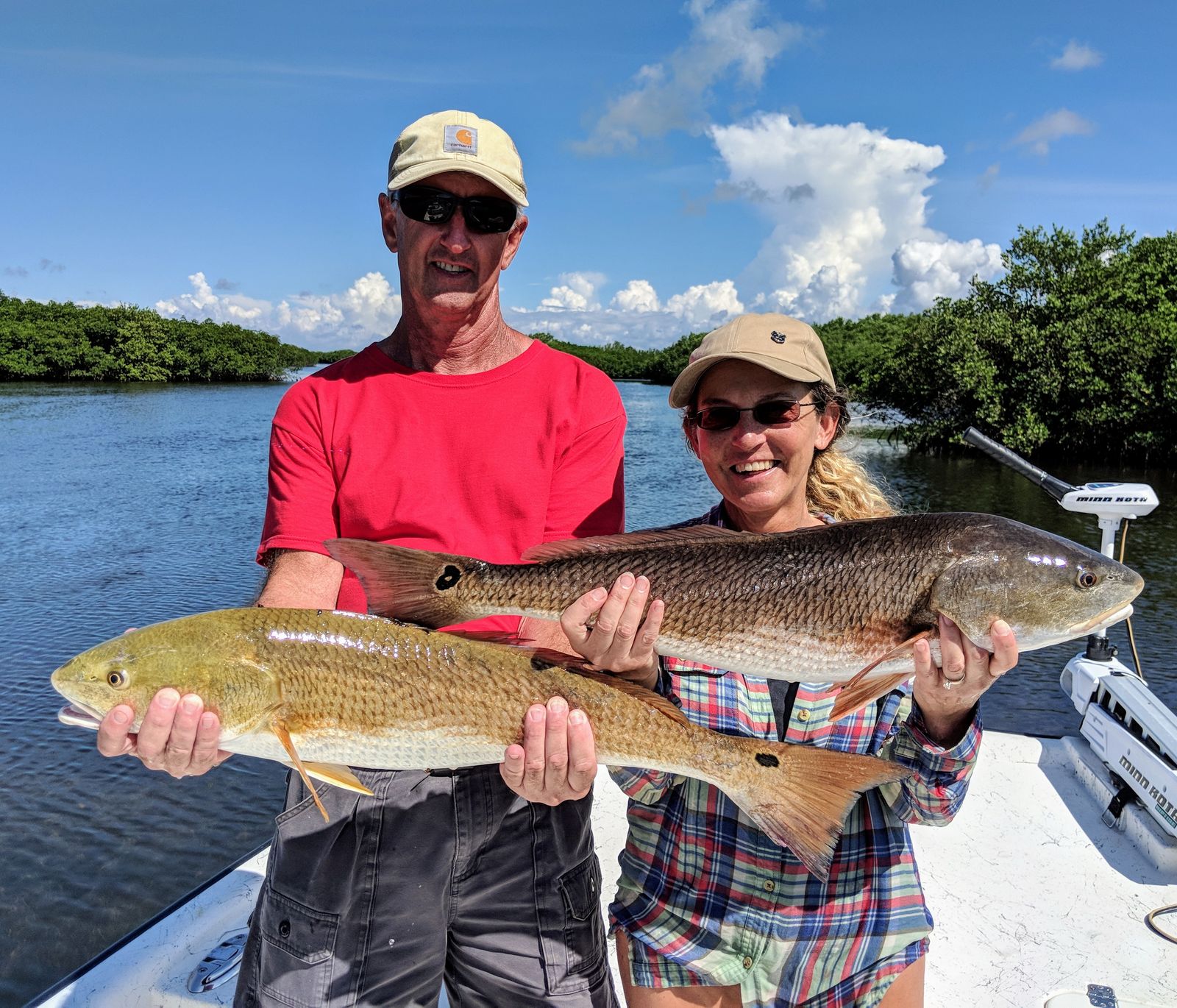 Last Updated on February 11, 2021 by Eric Bonneman
Arguably the most sought after and popular inshore species of fish to catch in Florida is the redfish, aka Red Drum. This bottom-feeding and aggressive shallow water dweller readily hits a wide variety of baits, in a wide variety of conditions. In most of the state, this species is also available all year long. In this, the tactics may change, but the opportunity to catch one is ever-present.
Where To Find Redfish
While each area may have different environmental features that will directly affect where redfish will be, there are some basic features to be on the hunt for regardless of where you are fishing.
The Flats
Florida's inshore fisheries are strewn with vast shallowater areas known as "flats". In these areas, redfish can be found where the underwater grasses are the healthiest. Among these areas, specific targets to look for are sand pockets and oyster bars. However, popular among sight fisherman, redfish will gladly move across any part of the flats ecosystem. This activity lends itself to becoming a very popular target for sight fisherman. Most will look for what they call a "push". A push across the flats is generally caused by a cruising fish and its head creating a wake along the water's surface.
Another thing redfish will do, and generally, the most exciting activity to spot, is what is called "tailing". A tailing redfish is basically bottom-feeding in very shallow water. In doing so, its tail is extended out of the water, gently waving. Spotting "tailers" gets the heart pumping for sure. And, unlike targeting a push, a tailer is generally stationary or moving very slow, allowing sight fisherman time to stealthily get into position for a presentation.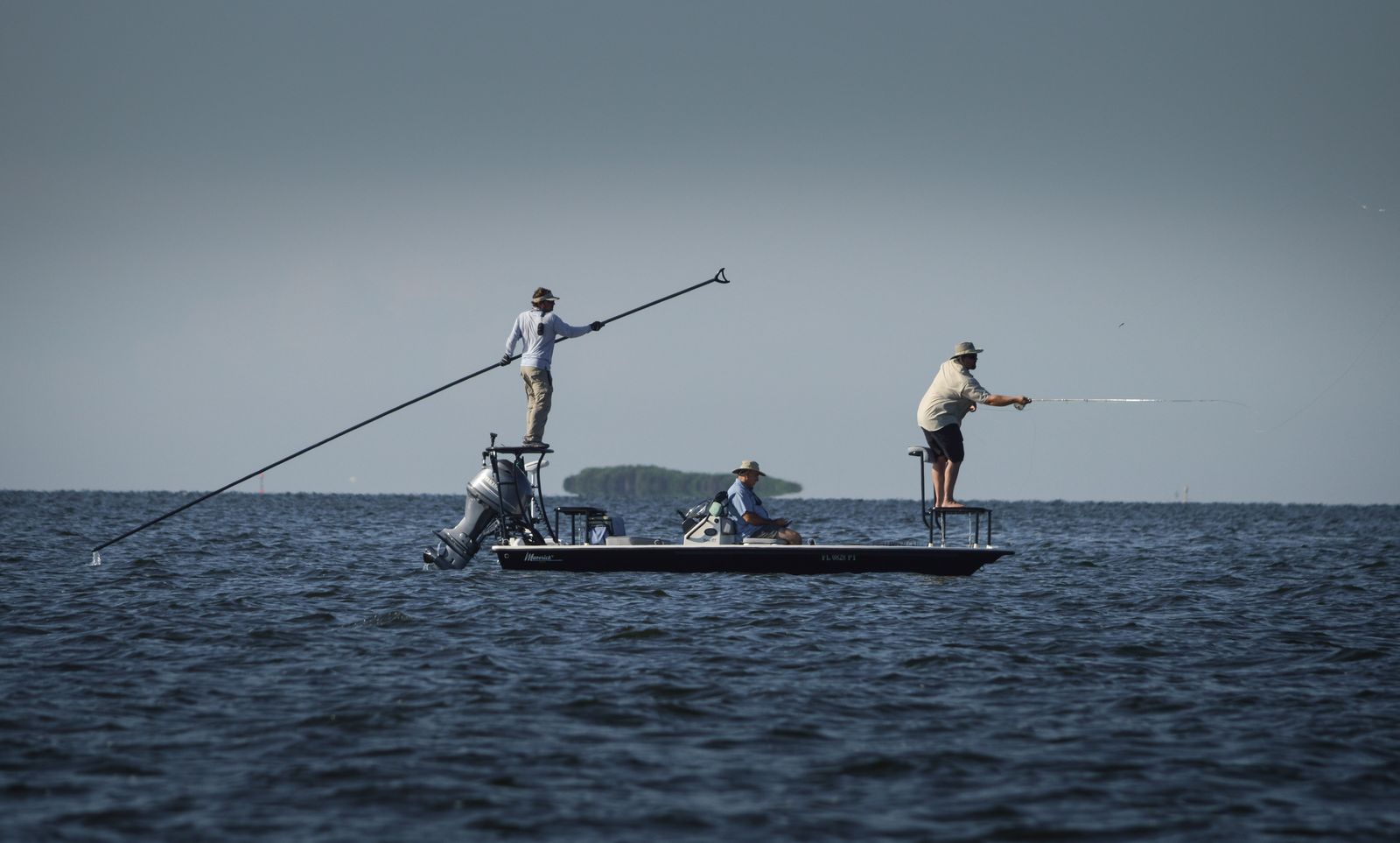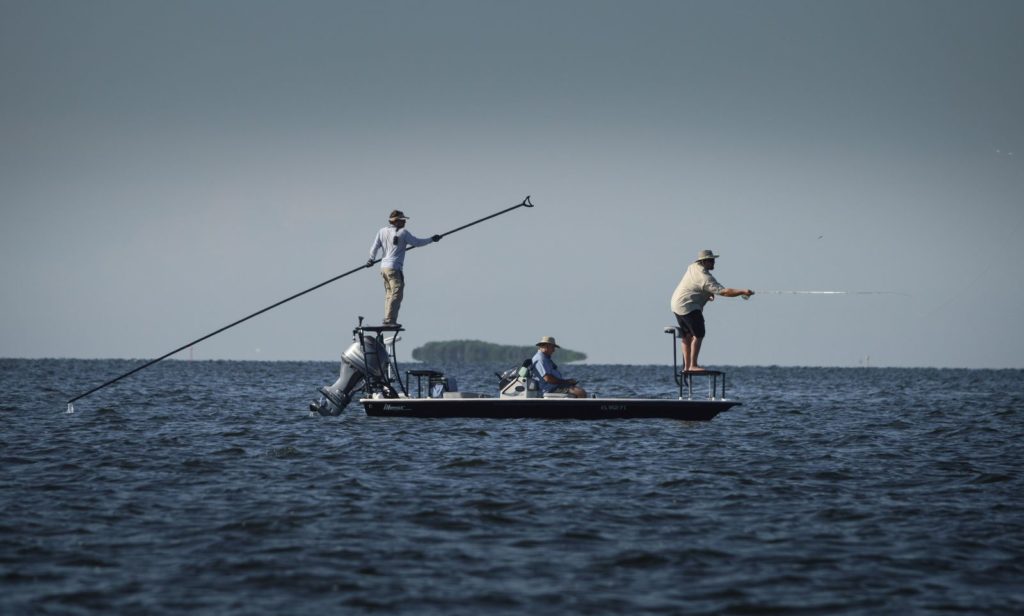 Backcountry
The backcountry fisheries all along Florida's coast are arguably the most scenic and popular way to fish inshore gamefish species. Redfish are found in abundance in these areas but do not act the same as other fish do here. The basic rules of the flats also apply here. Redfish will primarily be found along grass beds and oyster bars. Shallow water ledges and shelves lend themselves to feeding redfish as the tide swings.
Spring fed/river-fed backcountry areas also become popular wintertime habitats for redfish. When the flats get too cold, redfish will congregate "upriver" where water temperatures are moderate and steady. This allows for redfish to be targeted all year. Area's like ours in Crystal River are like this.
Drop Offs
Drop-offs and ledges are also a popular spot to fish for redfish. This feature is basically where a shallow-water flat will dump off to deeper water. Fishing from the deep side to up and over to the shallow side, or vice versa can yield many hungry redfish. At the same time, generally, where there are Redfish there is Seatrout. Catching a mixed bag of both species can be best targeted in this scenario. Larger redfish, during certain times of the year, can be found hanging out in the bottom of these deeper water areas as well.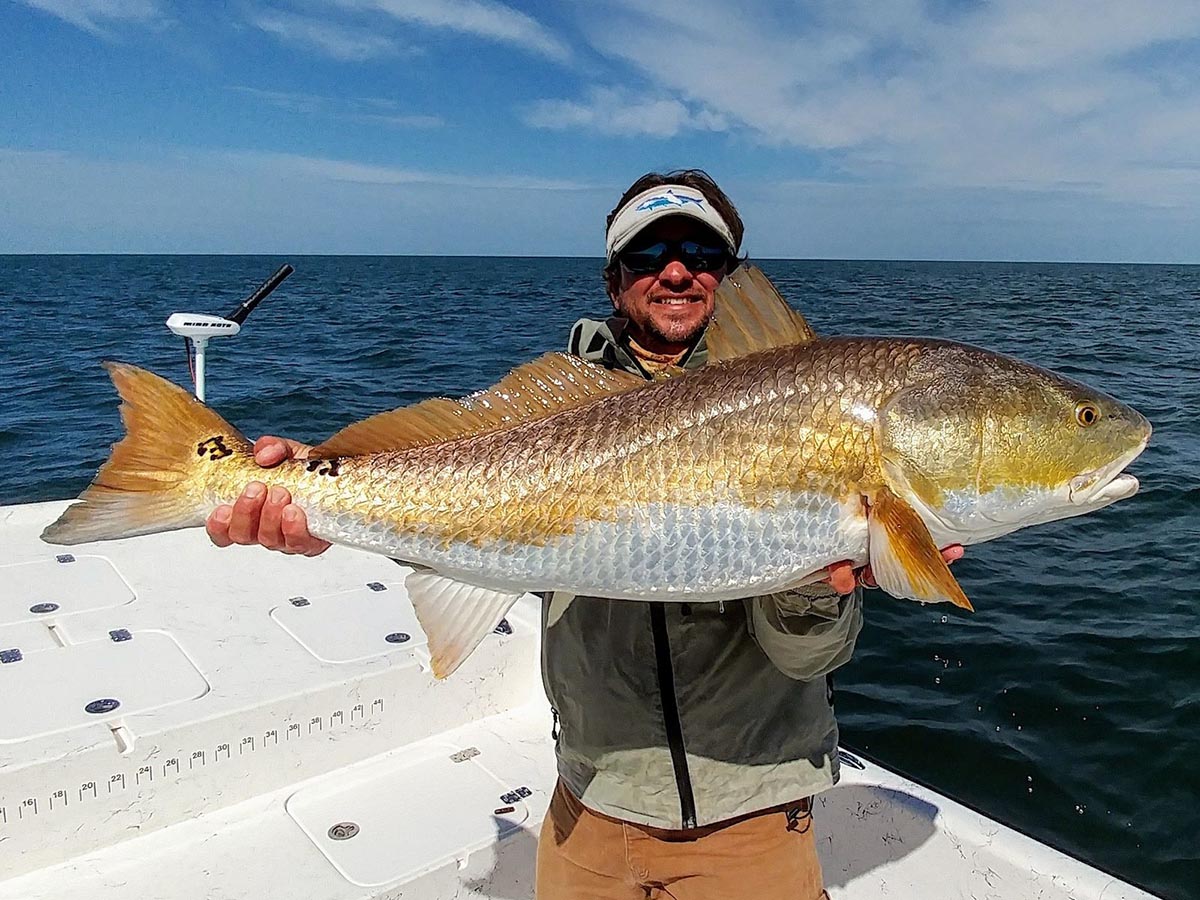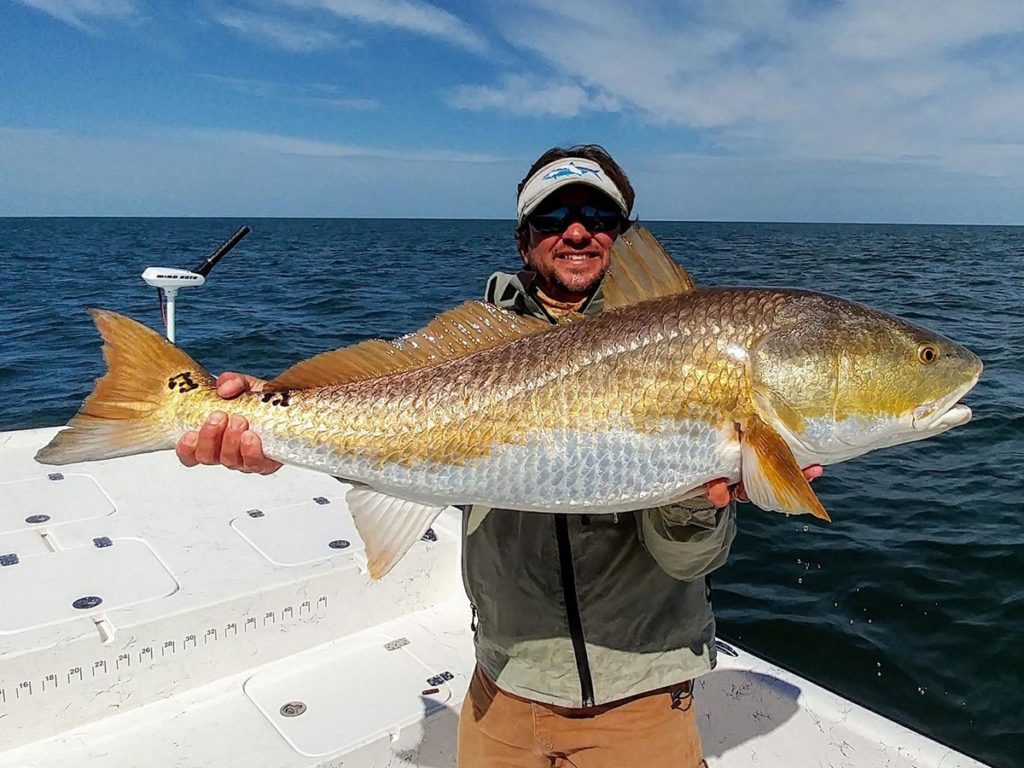 Baits & Tactics For Redfish
Redfish are attracted to various types of bait and lures. There is a logic in following the naturally occurring types of baits in the area for the season, but water temps can also play a role. For instance, while topwater lures may be deemed a summertime only sort of lure, even in the winter – when temps rise for the day, they can still be effective. This, while redfish have generally migrated towards eating crustaceans vs baitfish, as an example. It is always best to have a variety of lure types available during any outing targeting redfish.
Live Bait
While this makes for the easiest type of fishing for redfish, live bait will also land you in a world of various bycatch and bait thieves. Shrimp on a cork, live pinfish, white baits, and some frozen varieties of each (whole or cut) will provide redfish success. However, I will say, redfish will readily hit lures and for me, I prefer to not deal with the wayward catfish, toadfish, or pufferfish while trying to target redfish. I leave the live bait at home.
Working The Bottom
This is the most successful year-round tactic for redfish, They are natural bottom feeders. The types of baits most successfully used here are soft plastics with weedless hook setups. Slowly bumping the bottom on a slow retrieve, or performing large vertical pumps with a slow descent with these types of lures can both yield success. A general rule is to be a little faster in the summer, and a little slower in the winter.
Suspending
Suspending twitch baits are one of the best overall lures to use in shallowater fisheries. In places like Everglades National Park, it is not uncommon to slam or even grand slam on a single suspending twitch bait. This will also work all year round, it just comes down to seasons to dictate the action you should provide with the lure. I prefer two different presentations. One is a constant twitch. This is literally the same rhythmic action one uses while "walking the dog" with a topwater lure. The other is a twitch, twitch, pause action. Again, rhythmic, but with a pause. It is recommended to try both actions no matter the time of year.
Topwater
Topwater lures offer the most exciting hit and can be the most productive. As mentioned earlier this is truly a summertime favorite. The main reason for this is that redfish have moved from crustaceans to whitefish as their meal of choice. Whitebait runs through the flats during these warmer months. "Walking the Dog" is the most popular, but also, just as with the suspending- twitch, twitch, pause is another successful action to deploy. Again, I wouldn't rule these out in the winter, but the most consistent success will happen during warmer weather.
Fly Fishing
For fly fisherman, trust me – "it's not the fly". Ha. But really. Pay more attention to the three same ideas as mentioned above – bottom, middle, and topwater column flies. The action you use will be dictated by the season and how the fish are acting that day. Most times, a cruising red can be led and just start a steady short strip in front of him – if interested, be prepared to set that thing. I'd pay most attention to retrieve speed, which would be dependant on water temps. Fast with a suspending or topwater fly in the summer, slow and bottom in the winter.
Redfish Regulations (11/17/2020)
These change in Florida from time to time, so I threw the date in to let you know that this info is as recent as that. That said, real-time regs can be found on the FWC site: here.
Redfish regulations differ by seasons and areas. FWC has management areas spilt into three zones:
Northwest
South
Northeast
In all three zones, the slot size limit is 18-27 inches.
The bag limit in the Northwest and South zones are 1 per angler, 8 per vessel, but there is a current catch and release only in effect until May of 2021 from the Hernando/Pasco county line through Gordon Pass in Collier County in the Northwest and South Zones.
**This does not affect us here in Crystal River.
The bag limit in the Northeast is 2 per angler, 8 per vessel, and no current catch and release rule is in effect.