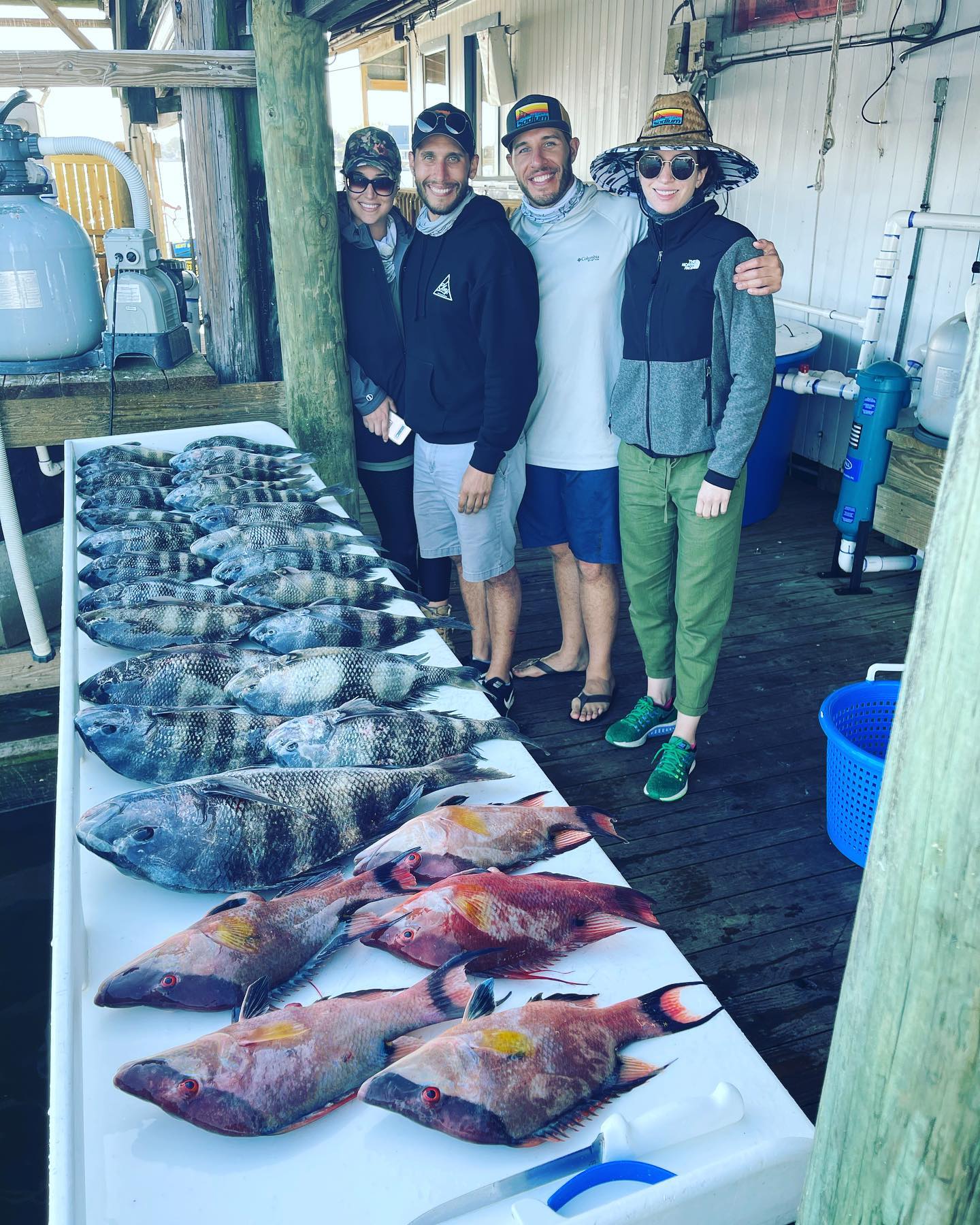 Last Updated on November 3, 2023 by Eric Bonneman
Crystal River, situated on Florida's Gulf Coast, stands out as a prime fishing destination. Its clear waters, fed by natural springs, offer excellent visibility for spotting a variety of fish. The area is unique, blending freshwater from the springs with the saltwater of the Gulf, creating an environment where both freshwater and saltwater species thrive.
The diversity of the fishing grounds here is something to note. You've got everything from shallow flats and backcountry mazes filled with mangroves, to deeper channels where the big ones roam. This variety means there's always something biting, no matter your experience level.
Captain Louie Argiro, leading the team at Florida Fishing Adventures, is well-versed in these waters. With years of experience and a genuine passion for fishing, he knows where to find the fish and how to make your time on the water memorable.
So, whether you're looking to battle a hefty grouper, chase the elusive tarpon, or enjoy a calm day on the flats, Crystal River has something for you. Let's set out and see what this gem on the Nature Coast has in store.
Meet Captain Louie Argiro
When you're fishing in Crystal River, it's crucial to have a guide who knows the ropes, and Captain Louie Argiro fits that bill. The man behind Florida Fishing Adventures, Louie isn't just someone who decided to pick up a rod and reel one day. He's got a history with these waters, having frequented the Crystal River, Ozello, and Homosassa regions for years.
Louie's love for fishing started early, way before he became a guide. He grew up around water, so it was only natural that he'd get acquainted with the fish that call it home. His roots began south of Crystal River in Tampa, where he got a taste for what light tackle fishing truly offers. And as he ventured to various places—from Alaska to the Outer Banks of North Carolina—he accumulated a wealth of knowledge.
But what sets Captain Louie apart isn't just his experience; it's his dedication. After earning a Bachelor of Science Degree in Mechanical Engineering, he realized that a desk job wasn't for him. The call of the water was too strong. So, he got his Coast Guard Captain's License and dived headfirst into guiding.
Today, Captain Louie brings energy, enthusiasm, and a sharp set of skills to every trip. He knows how to cater to everyone, whether you're a newbie trying out fishing for the first time or a seasoned pro looking for a challenge.
With Captain Louie Argiro at the helm, you're not just getting a guide; you're getting someone who truly loves what he does. And that passion? It's infectious. You'll feel it from the moment you step on the boat until the last cast of the day. So, come aboard and see what makes fishing with Captain Louie a cut above the rest.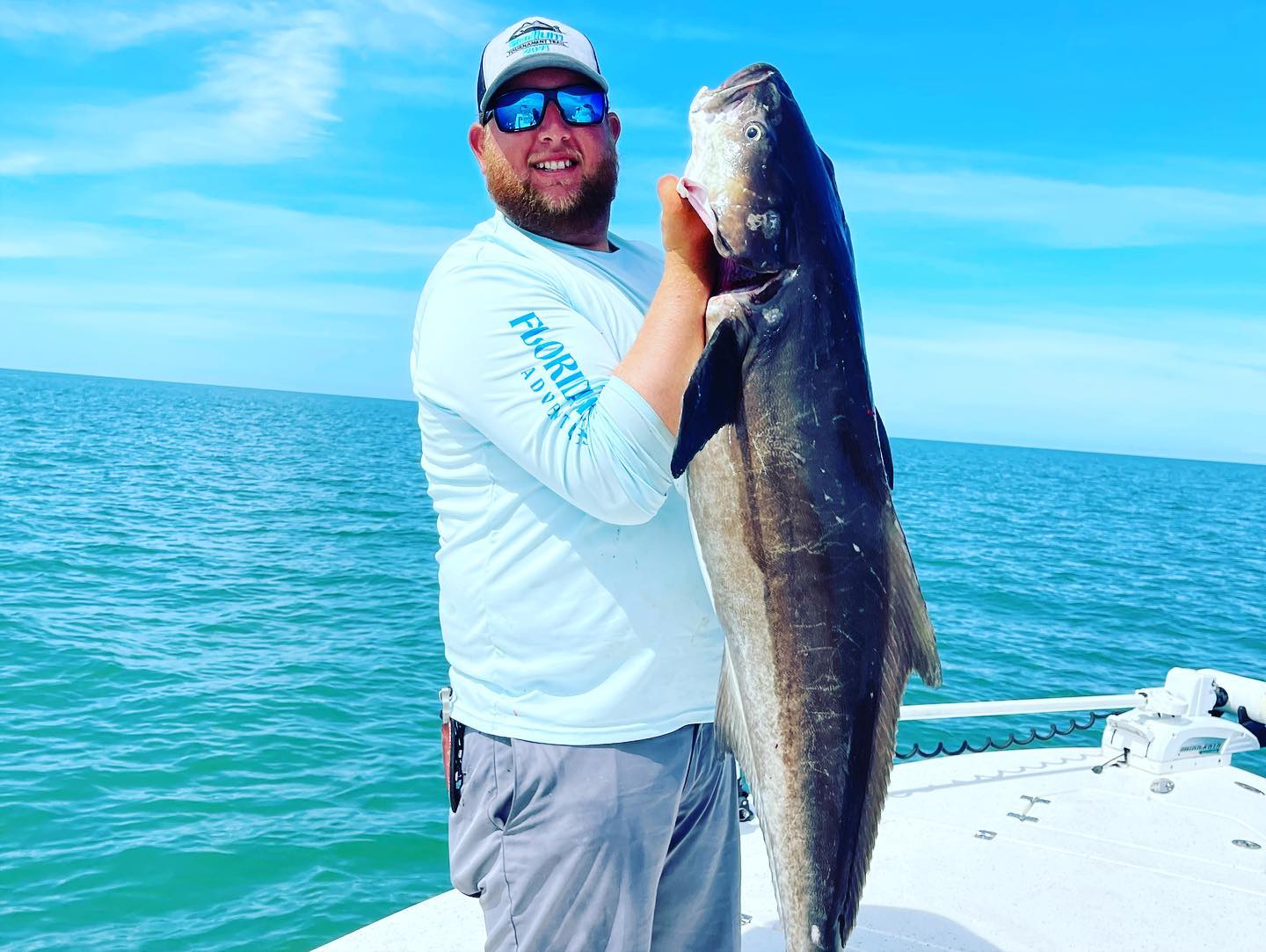 Inshore Fishing in Crystal River
Fishing in Crystal River isn't just another day on the water. It's about the diversity of the catch and the unique experience that the inshore waters offer. This isn't a spot where you're limited to one or two types of fish. No, sir. Here, you've got a smorgasbord of species that could give any angler a run for their money.
First off, there's the redfish, a staple in these parts. They're not just plentiful; they're a hoot to catch. Then you've got the snook, slippery and crafty, making every catch feel like a small victory. But let's not forget the spotted seatrout. These fellas are a common sight around the grass flats and a favorite for many who fish these waters.
But the variety doesn't stop there. You've also got sheepshead, known for their striped patterns and knack for stealing bait if you're not careful. And the flounder? They might be a bit tricky to spot, being flat and all, but they sure are satisfying to reel in.
What makes inshore fishing here stand out isn't just what you're catching but where you're catching it from. The backcountry waters of Crystal River are a mix of grass flats, oyster bars, and mangrove-lined shores. It's not just about dropping a line and hoping for the best. It's about understanding the lay of the land—or water, in this case.
This is where having someone like Captain Louie Argiro comes into play. He knows these waters like the back of his hand. He can tell you where the redfish like to hide and what time of day the snook are biting. It's this knowledge, combined with the rich variety of fish, that makes inshore fishing in Crystal River something special. It's not just fishing; it's an experience.
Grouper Fishing Adventures
Going after grouper in Crystal River is something every angler should try. It's not just about hooking a fish; it's about the challenge and satisfaction that comes with it. Grouper aren't your everyday catch; they're tough, they're strong, and they know how to put up a fight.
In these parts, you're not heading miles offshore to find them. Nope, you've got some of the best grouper fishing right here in shallower waters, around the reefs and springs. It's a different kind of fishing, one where you can feel every tug and pull as you work to reel in one of these heavy-hitters.
What's really something is when you feel that initial hit. That's when you know you've got a grouper on the line, and that's when the real fun begins. They dive, they pull, and they test your skills as an angler. It's not just a physical battle; it's about strategy, patience, and a bit of grit.
Having someone like Captain Louie Argiro by your side is a big plus. He's been through these battles, knows the spots, and can guide you through the experience. It's one thing to catch a grouper; it's another to do it in Crystal River, where every catch feels like a small victory.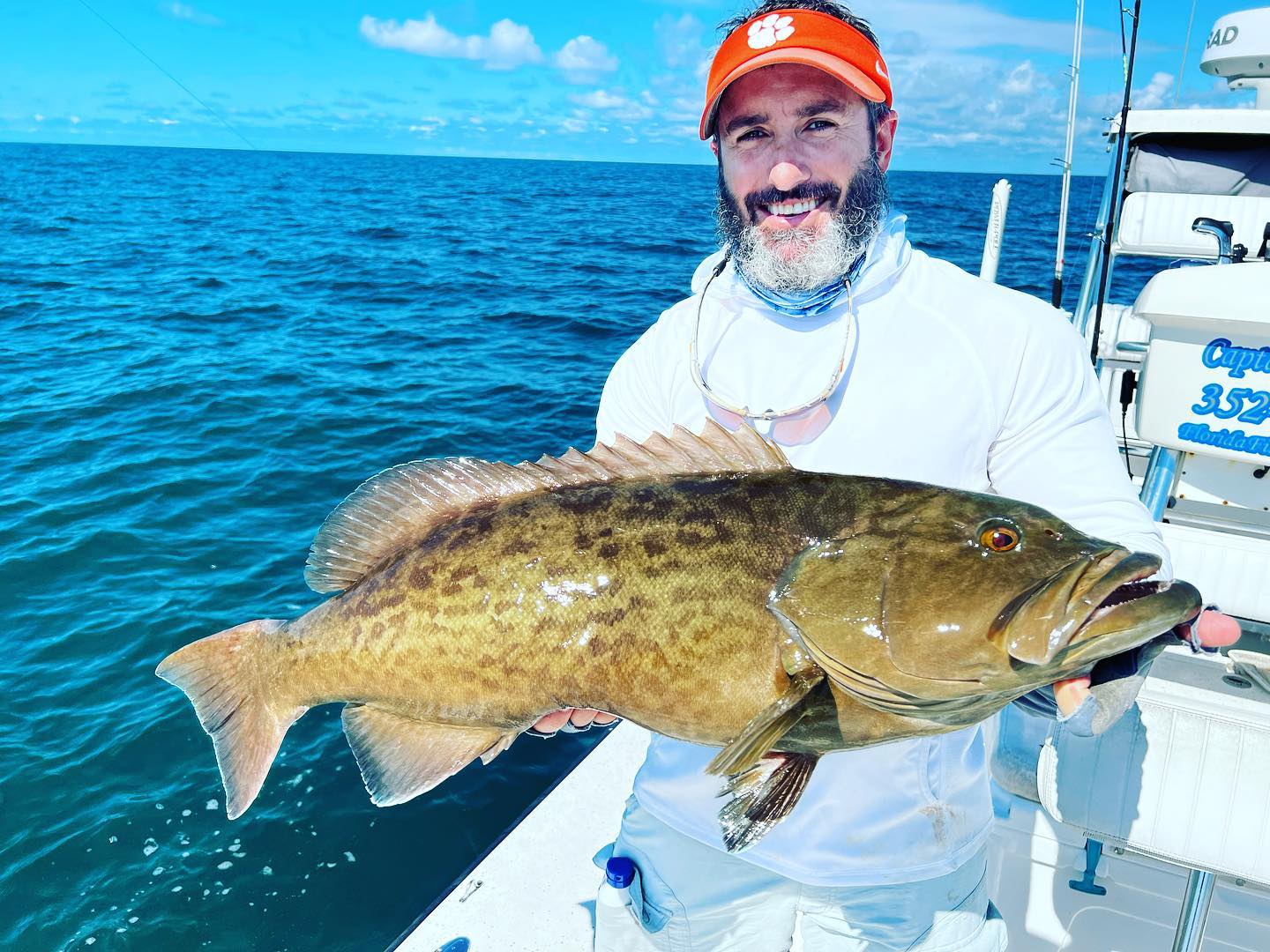 Fly Fishing
Fly fishing is its own kind of art. It's not just about casting a line and waiting; it's about reading the water, understanding the fish, and making that perfect cast that looks as natural as the insects the fish are feeding on.
Down here in Crystal River, fly fishing isn't just another way to fish; it's a way to really connect with the environment. The waters are clear, and the backdrop is about as good as it gets. You can spot redfish, speckled trout, tarpon, and even the occasional shark. It's like having a front-row seat to a show put on by nature.
What's special about fly fishing here is the variety of species you can target. You're not just looking for one type of fish. One minute you could be trying to land a feisty redfish, and the next, you're aiming for a sleek, fast-moving tarpon. It keeps you on your toes and makes every cast a new adventure.
Having Captain Louie Argiro guiding you through these waters is a big advantage. He knows the spots, understands the fish, and can help turn a good day of fishing into a great one. It's not just about landing a fish; it's about the experience, the challenge, and the stories you'll have to tell. That's what fly fishing in Crystal River is all about.
Tarpon Fishing: The Silver Kings of Crystal River
Fishing for tarpon in Crystal River is something you've got to experience to believe. These fish, known as the Silver Kings, are some of the most sought-after catches in these parts. They're big, they're strong, and they put up a fight that could make any angler's day.
The best time to go after these beasts is during their migration, which peaks around May through June. But here's the thing: even if you miss that window, you've still got a shot at them until the end of January. Captain Louie Argiro knows these waters like the back of his hand, and he's got the know-how to find these fish and give you the best shot at a catch you'll be talking about for years.
Shark Fishing: A Family-Friendly Adventure
Shark fishing in Crystal River is the kind of adventure that's perfect for the whole family. From spring through fall, the waters here are teeming with sharks of all kinds: Blacktip, Tiger, Bull, Sharpnose, and even Hammerhead sharks. It's a rush to see these powerful creatures up close, and it's a great way to introduce the young ones to the raw beauty of nature.
Under Captain Louie's guidance, you're in for a safe and thrilling experience. He's got the gear, the boat, and the expertise to make sure your shark fishing trip is as exciting as it is memorable. It's not just about the catch; it's about the stories you'll tell and the smiles you'll see on your family's faces. That's what makes shark fishing in Crystal River something special.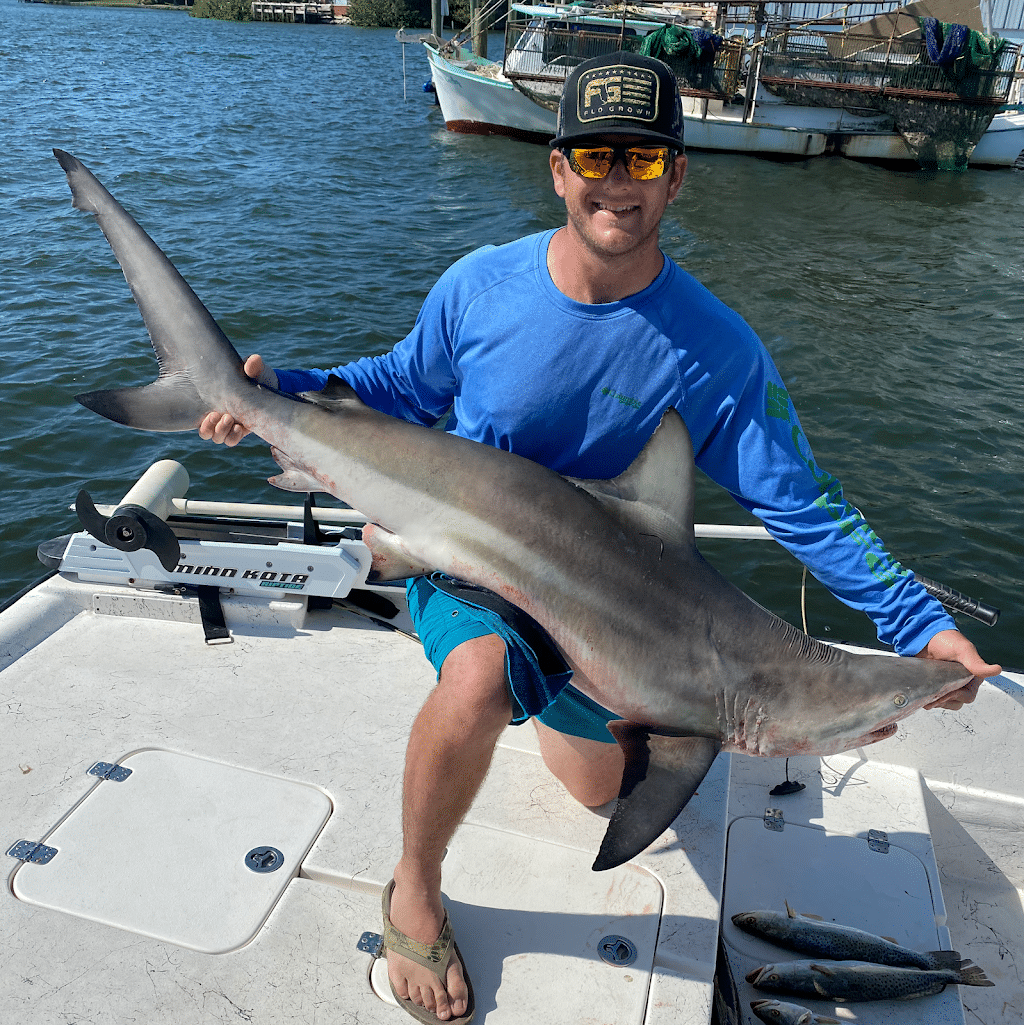 Extreme Shallow Water Fishing
Winter in Crystal River brings a fishing experience like no other. We're talking about extreme shallow water fishing, where the water's so thin you'd think no fish would bother. But you'd be surprised. In these parts, when the tides drop low, the creeks around here still hold a good number of Redfish, Speckled Trout, Sheepshead, and Black Drum. It's a different kind of fishing, one that Captain Louie Argiro has mastered.
With his specialized Cottonmouth Mud Boat, Captain Louie can get you to spots that most boats can't reach when the water's low. That's where the fish like to hide out, and that's where you'll have a shot at some fine winter catches. It's not about deep waters or fancy gear; it's about knowing the lay of the land, or rather, the lay of the shallow waters.
This kind of fishing is a real treat, especially for folks new to the game. It's a chance to learn, to enjoy the quiet of winter on the water, and maybe, just maybe, to reel in a fish that thought it was hiding out of reach. That's what makes extreme shallow water fishing a unique adventure in Crystal River.

Kayak Fishing: Intimacy with Nature
Kayak fishing in Crystal River is something else. It's you, a kayak, and the water. No big boat engines, no crowds, just quiet. It's about being close to the water, so close you can see the fish swim by. It's peaceful, but don't let that fool you. The fishing? It can be top-notch.
In a kayak, you can slide into spots bigger boats can't reach. We're talking about skinny water backcountry areas where the big ones like to hide. Redfish, Snook, you name it. And when the conditions are right, it's something to see—a school of fish pushing water towards you. It gets the heart going, all right.
Captain Louie Argiro knows these waters. He can set you up with a kayak and point you to the right spots. It's a different pace, kayak fishing. Some folks find it more rewarding, being that close to the action, that close to nature. It's just you and the fish, and around here, that's a pretty good way to spend a day.
Beyond Fishing: Scalloping and Sunset Cruises
Crystal River isn't just about fishing. Sure, the fishing's great, but there's more to the water than that. Take scalloping, for instance. It's like an underwater treasure hunt. You snorkel around, floating above seagrass beds, and look for these little gems. It's a whole lot of fun, and anyone can do it. Kids love it, adults love it, and at the end of the day, you've got a bag full of scallops. Not a bad way to spend a day on the water.
Then there are the sunset cruises. Captain Louie Argiro and his crew can take you out when the day's winding down, and the sky starts to light up. It's a quiet time on the water, peaceful. You might see some wildlife—dolphins, manatees, birds settling in for the night. It's a good time to reflect, enjoy the company you're with, and just take it all in. The Nature Coast lights up in a special way when the sun goes down, and seeing it from the water is something else.
So, while fishing might be what brings you to Crystal River, don't miss out on the other adventures. Scalloping, sunset cruises, they're part of what makes this place special. Captain Louie's got you covered, whether you're holding a fishing rod or a snorkel. It's all about enjoying the water, and around here, there's plenty of that to go around.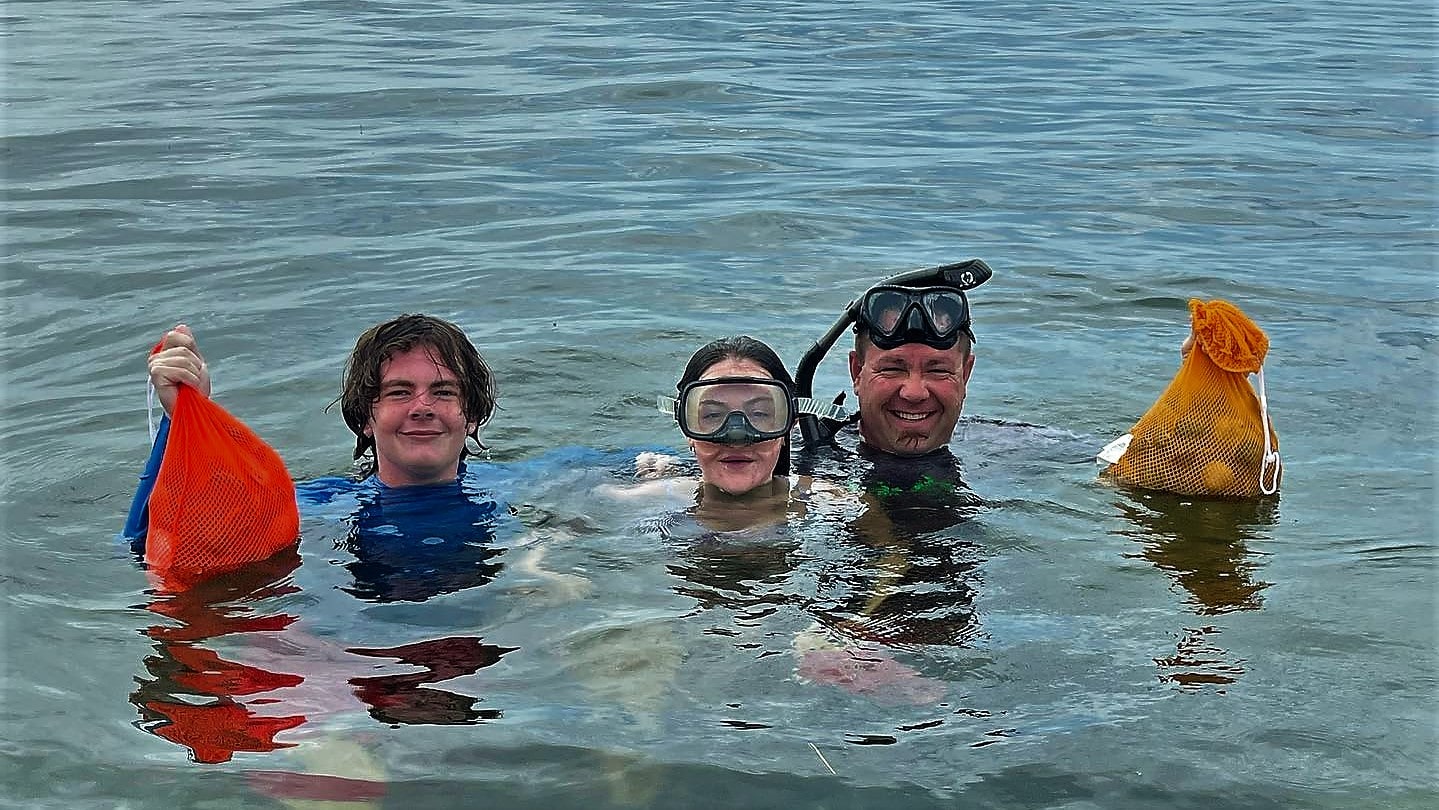 Fishing and Lodging Packages
Captain Louie Argiro at Florida Fishing Adventures knows a thing or two about hospitality. It's not just about getting you on the fish; it's about making your whole stay comfortable and hassle-free. That's where the all-inclusive packages come in handy. You get your lodging sorted out, which means less time worrying about where you'll rest your head and more time dreaming about the big ones you'll catch.
The Client Condo is a pretty sweet deal. It's got everything you need, and Captain Louie is on hand to point you in the direction of the best local spots—be it for dining or just kicking back. It's about giving you that home-away-from-home feeling, only better, because you're right in the middle of one of the best fishing spots around.
Conclusion: Your Next Adventure Awaits
So, what's it gonna be? Ready to pack your bags and head to Crystal River? Captain Louie Argiro and the crew at Florida Fishing Adventures are ready to show you the ropes, the reels, and the crystal-clear waters. Whether you're in it for the inshore thrills, the shallow water challenges, or the peaceful kayak outings, it's all here waiting for you.
Booking's easy, and the fish are biting. It's about more than just fishing; it's about making memories out on the water, the kind that stick with you. So give Captain Louie a shout, and let's get that adventure started. See you on the water!