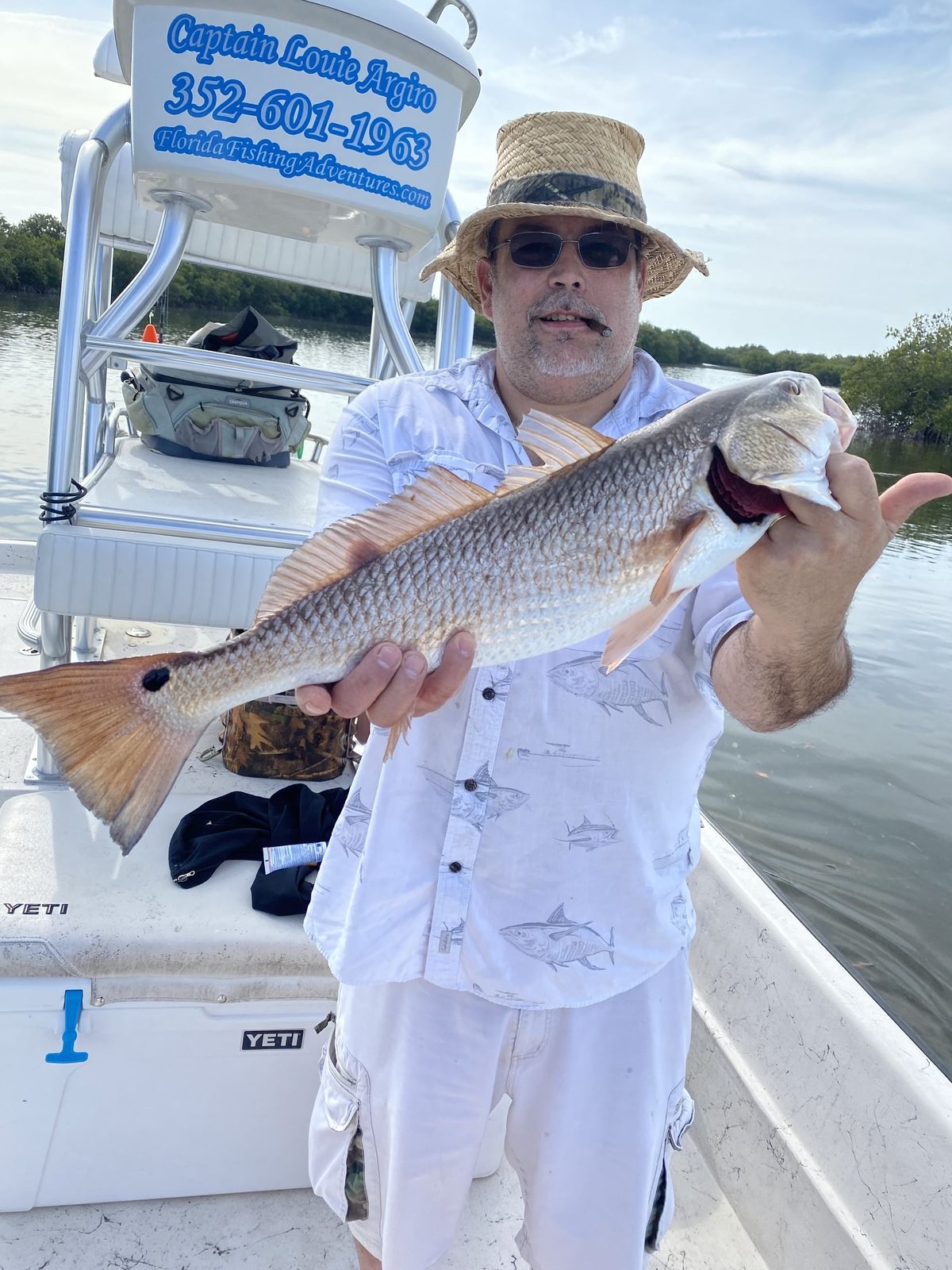 Last Updated on December 30, 2020 by Eric Bonneman
The cooler weather and gusty north winds towards the end of October kept me in the Homosassa River just one day. Michael Herman Smith of Black Diamond in Lecanto brought along with him his son-in-law and grandson from England to enjoy a day of fishing out on the river.
Primarily, the trip was for the Grandson. There was plenty of action for his young Grandson as he had fun reeling in about a dozen reds and several mangrove snapper using live shrimp with a 1/0 Eagle Claw plain shank hook fished on the rocky bottom near Marker 61.
Later on during the first week of November, the trio from Europe went out with Capt. Mark Zorn on Crystal River Bay for a half day and landed plenty of trout and Spanish mackerel using live shrimp under a Cajun Thunder oval bait cork.
Pat Burchard of Riverhaven Village hosted her two daughters, Sue Murray and Chris Schorr and son-in-law, John Murray to 8 days of fishing with me over a two week span. They caught about everything the inshore fishery has to offer.
Daily trout limits each day were landed using the Cajun Thunder cigar shaped cork over Cotee ? oz. Red Live-Eye action jigs with gold glitter 3-inch swimming shad tails. Some of the trout were over 20 inches and most were in the higher teens.
Bass Assassin Electric Chicken (pink over green) colored sea shads also accounted for a good majority of the fish. The jig and cork rig was put together with about 30-inches of 20-pound Ande monofilament.
On just two trips with Pat, John and Sue; John learned from Steve Cooley about a 5M floating MirrOlure that he personally brought himself and landed several different species including a spotted sea trout, redfish, bluefish, ladyfish and most special; and a first ever in my career on top water, a pompano.
The pomp wanted it bad and kept striking the lure until he was hooked. Florida gold as the commercial fishermen used to call them; one fish can bring more than $20 in the market. This fall has been a good year for pompano landings as several have been caught this month.
If you want the Cooley lure; you will have to visit Bill Korade at Blue Water Bait and Tackle on US 19 in Homosassa Springs. He might reveal the secret if you are nice to him and actually buy something from him.
The grouper bite began last week with several fish in the 20-pound class. Tom Downes of Clearwater/Lake Rousseau landed a 12 and 6-pound grouper on spinning tackle using a crank bait. Several more shorts were landed and he caught two bluefish on one lure. His buddy had a king hit his lure so hard that it broke 50 pound Power Pro before the drag engaged. All this morning action took place from my flats skiff in 8 feet of water. We expected to do better, but a north wind halted our action by noon.
The day before our trip and as the cold front was approaching, Capt. William Toney and party brought in 7 grouper; one was a whopping 20 pounds! Conditions were just right for the trip.
Super-anglers father/son Brian and Craig Korczynski of the Gold Coast went with me to the backcountry and rock filled clear waters of Chaz. They free-lined live shrimp and produced over a dozen reds with one double hook-up of 27 and 28 inches.
The limit of trout came easily for them, but Dad ruled the roost on this trip. Craig has got a real teacher in his Dad; however, before all is said and done, the son will be showing Dad how to do it. What a pleasure it was to fish with experienced anglers.
Offshore best bets for the remainder of November and first two weeks of December are to go for the gag grouper. This is prime time as the waters cool; the fish migrate into depths from 10 to 30 feet of water. Now that is a 10-mile wide corridor as you know so if the floating grass is not too bad; trolling a Mann?s Stretch or lipped Mirrolure is the way to go. Kings should be anywhere from 30-50 feet as long as the water temperature remains in the mid 70?s. Depending on the cold fronts the offshore grouper fishing could be hot all month long. Plenty of Spanish mackerel and blue fish will be in the 6 to 8 foot deep flats if water temps remain in the mid 70?s.
Inshore; trout, reds, sheepshead, black drum and pompano will continue to tear it up on top water baits, cork rigs, live bait anywhere from 2 to 6 feet of water. I will close with a tip and maybe a common tactic that some have done in the past when faced with a loose fish under a cork rig.
Several times in my life, I have had the opportunity to catch the same fish twice. Recently while red fishing, one of my clients got their line cut off in the rocks by a keeper size red in the upper slot. Later the cork popped up and while eating lunch we kept seeing the cork pop-up every now and then.
Long story short, I managed after many casts to hook the cork with a floating MirrOlure and reel it in. My party was happy because we closed out their limit catch of reds and I was tickled because I got the $3+ cork back. That was a lot of fun!
Keep me in mind for a fishing trip gift certificate as a great gift idea to your loved ones.
Have a safe and wonderful holiday season and remember the main reason we celebrate Thanksgiving and Christmas.