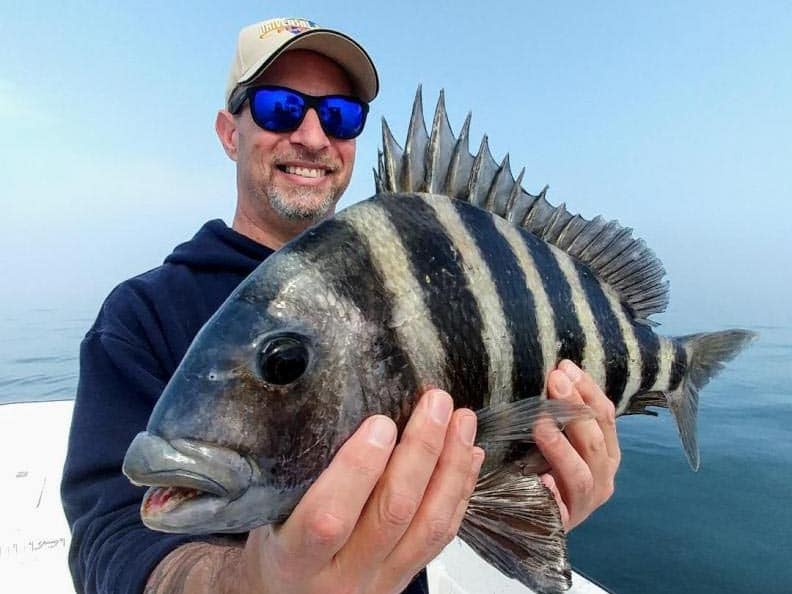 Last Updated on January 30, 2022 by Eric Bonneman
Now is the time to gear up and get ready for sheepshead season in Crystal River. Sheepshead are widely found in Gulf waters and are a much sought-after catch among anglers looking for a tasty treat.
Known for their human-like teeth, sheepshead (Archosargus probatocephalus) are occasionally and aptly referred to as convict fish because of their black and white stripe features. Some of their favorite meals include shrimp, crabs, sand fleas, small fish, and oysters.
When to Catch Sheepshead
Although sheepshead can be caught throughout the year, cold weather months are some of the best times of year to target them, with ample opportunity to land fish from now through the beginning of spring. As far as productivity goes, since sheepshead exhibit some tolerance to cooler water, we're heading into a time of year that generally yields the best numbers of fish.

Where to Begin Your Search for Sheepshead
Like many other fish species, sheepshead congregate in spots where they can find food readily available. By focusing on areas with heavy concentrations of crustaceans, you'll find the most success. Look for submerged rocks, seawalls, the base of mangroves, jetties, docks, bridges, and any other hard spot home to things like shrimp, crabs, barnacles, or oysters.
Sheepshead Fishing Tips and Tricks
After locating the most likely sheepshead hangouts, there are essential tips and tricks to employ to have the best shot at eliciting bites.
Hands down, the best bait for sheepshead is shrimp. Live shrimp will do the trick, but artificials can also pay off. In little to no wind or current, opt for an unweighted presentation. When wind or current is a factor, add weight as needed.
Many seasoned veterans employ a trick to ignite a sheepshead feeding frenzy. Barnacle scraping is a popular method that works well to chum waters and gets the bite going. First, look for walls, dock pilings, and other structures that hold barnacles. Once you've located a good barnacle holding structure, use a shovel or another tool to scrape barnacles off and into the water. After you're done scraping, prepare for a period of increased sheepshead activity and a great chance to catch fish.
Final Word
Now is the time to schedule some time on the water to wet a line in search of some great sheepshead fishing in Crystal River. Don't miss out on the action for an excellent way to enjoy Florida Gulf Coast fishing!