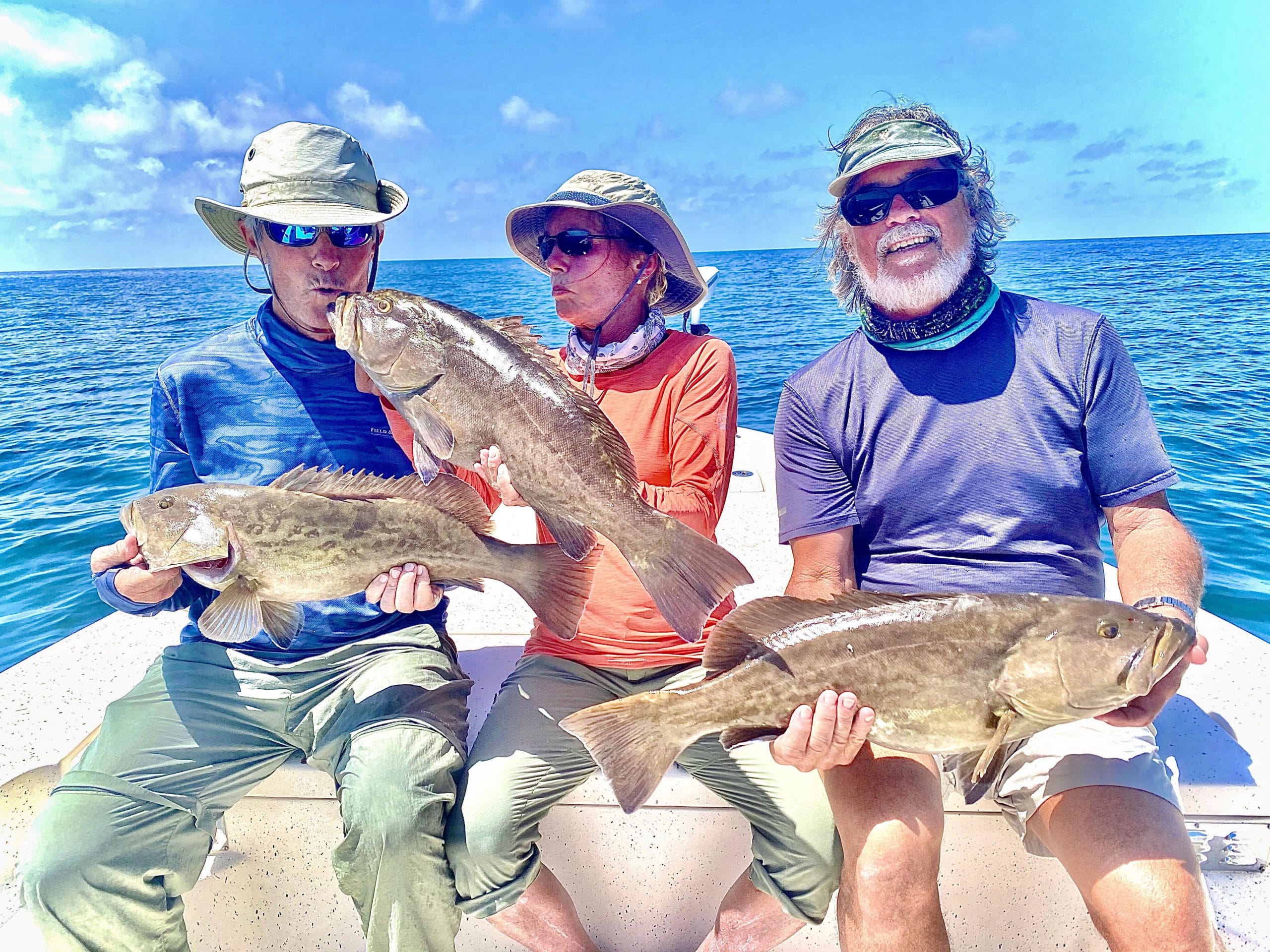 Last Updated on January 7, 2021 by Eric Bonneman
Getting revved up for the 2021 fishing season here in Crystal River and we decided to put together a fishing calendar for the year. That said, we are in one of the most active fisheries in Florida and this calendar is based on average statistics, these are not set in stone for the current year. Depending on water temps, we can see different species at any time of year. However, it will give you a good idea of what to expect, month by month, for the 2021 fishing year!
*Italic means fishing is good, not excellent.
January
Saltwater:
Flounder
Grouper
Grunt
Ladyfish
Sheepshead
Tripletail
Amberjack
Black Sea Bass
Porgy
Seatrout
Mangrove Snapper
Freshwater:
Black Crappie
Sunshine Bass
Channel Catfish
February
Saltwater:
Flounder
Ladyfish
Sheepshead
Tripletail
Amberjack
Barracuda *rare
Black Sea Bass
Redfish
Grouper
Grunt
King Mackerel
Porgy
Seatrout
Mangrove Snapper
Mutton Snapper
Snook
Freshwater:
Largemouth Bass
Sunshine Bass
Black Crappie
Channel Catfish
March
Saltwater:
Bluefish
Redfish
Flounder
Ladyfish
Seatrout
Sheepshead
Mangrove Snapper
Tripletail
Amberjack
Barracuda *rare
Black Sea Bass
Bonito
Cobia
Grouper
Grunt
King Mackerel
Spanish Mackerel
Pompano
Porgy
Lane Snapper
Mutton Snapper
Snook
Triggerfish
Freshwater:
Largemouth Bass
Black Crappie
Redear Sunfish
Sunshine Bass
Bluegill
Channel Catfish
Tilapia

April
Saltwater:
Barracuda *rare
Black Sea Bass
Bluefish
Bonito
Cobia
Redfish
Flounder
Grunt
Ladyfish
King Mackerel
Pompano
Porgy
Seatrout
Sheepshead
Mangrove Snapper
Snook
Tripletail
Amberjack
Grouper
Spanish Mackerel
Permit
Sharks
Lane Snapper
Mutton Snapper
Tarpon
Triggerfish
Tuna
Freshwater:
Largemouth Bass
Bluegill
Redear Sunfish
Channel Catfish
Tilapia
May
Saltwater:
Barracuda *rare
Black Sea Bass
Bluefish
Bonito
Cobia
Redfish
Grouper
Grunt
Ladyfish
King Mackerel
Spanish Mackerel
Permit
Pompano
Porgy
Seatrout
Seatrout
Sheepshead
Lane Snapper
Mangrove Snapper
Snook
Tripletail
Amberjack
Flounder
Shark
Mutton Snapper
Tarpon
Triggerfish
Tuna
Freshwater:
Largemouth Bass
Bluegill
Redear Sunfish
Channel Catfish
Tilapia

June
Saltwater:
Amberjack
Barracuda *rare
Black Sea bass
Bluefish
Bonito
Cobia
Redfish
Grouper
Grunt
Ladyfish
King Mackerel
Spanish Mackerel
Permit
Pompano
Porgy
Seatrout
Shark
Lane Snapper
Mangrove Snapper
Mutton Snapper
Red Snapper
Snook
Tarpon
Mahi
Black Drum
Flounder
Sailfish
Sheepshead
Triggerfish
Tripletail
Tuna
Freshwater:
Bluegill
Redear Sunfish
Largemouth Bass
Channel Catfish
Tilapia
July
Saltwater:
Amberjack
Barracuda *rare
Black Sea Bass
Mahi
Black Drum
Redfish
Bluefish
Grouper
Grunt
Spanish Mackerel
Ladyfish
Permit
Pompano
Porgy
Seatrout
Shark
Lane Snapper
Mangrove Snapper
Mutton Snapper
Red Snapper
Tarpon
Bonito
Cobia
Flounder
King Mackerel
Sailfish
Sheepshead
Snook
Triggerfish
Tuna
Freshwater:
Bluegill
Redear Sunfish
Channel Catfish
Tilapia
August
Saltwater:
Amberjack
Barracuda *rare
Black Sea Bass
Bluefish
Black Drum
Grunt
Ladyfish
Spanish Mackerel
Permit
Pompano
Porgy
Seatrout
Shark
Mangrove Snapper
Lane Snapper
Mutton Snapper
Tarpon
Bonito
Cobia
Mahi
Redfish
Flounder
Grouper
King Mackerel
Sheepshead
Snook
Triggerfish
Tuna
Freshwater:
Bluegill
Redear Sunfish
Largemouth Bass
Channel Catfish
Tilapia

Septemeber
Saltwater:
Barracuda *rare
Bluefish
Bonito
Cobia
Black Drum
Grunt
Ladyfish
King Mackerel
Spanish Mackerel
Seatrout
Porgy
Mangrove Snapper
Lane Snapper
Amberjack
Black Sea Bass
Redfish
Flounder
Grouper
Permit
Pompano
Shark
Sheepshead
Mutton Snapper
Snook
Tarpon
Triggerfish
Tuna
Freshwater:
Bluegill
Largemouth Bass
Channel Catfish
Redear Sunfish
Tilapia
October
Saltwater:
Bluefish
Ladyfish
Spanish Mackerel
Permit
Porgy
Seatrout
Mangrove Snapper
Amberjack
Barracuda
Black Sea bass
Bonito
Cobia
Black Drum
Redfish
Grouper
Grunt
King Mackerel
Sheepshead
Lane Snapper
Mutton Snapper
Snook
Tarpon
Triggerfish
Freshwater:
Largemouth Bass
Sunshine Bass
Bluegill
Catfish
Redear Sunfish
Tilapia

November
Saltwater:
Flounder
Grouper
Ladyfish
Permit
Amberjack
Barracuda *rare
Black Sea Bass
Bluefish
Grunt
Spanish Mackerel
Porgy
Seatrout
Sheepshead
Lane Snapper
Mangrove Snapper
Triggerfish
Freshwater:
Bluegill
Channel Catfish
Black Crappie
Redear Sunfish
December
Saltwater:
Flounder
Grouper
Permit
Sheepshead
Amberjack
Black Sea Bass
Grunt
Ladyfish
Porgy
Seatrout
Mangrove Snapper
Tripletail
Freshwater:
Sunshine Bass
Black Crappie
Channel Catfish