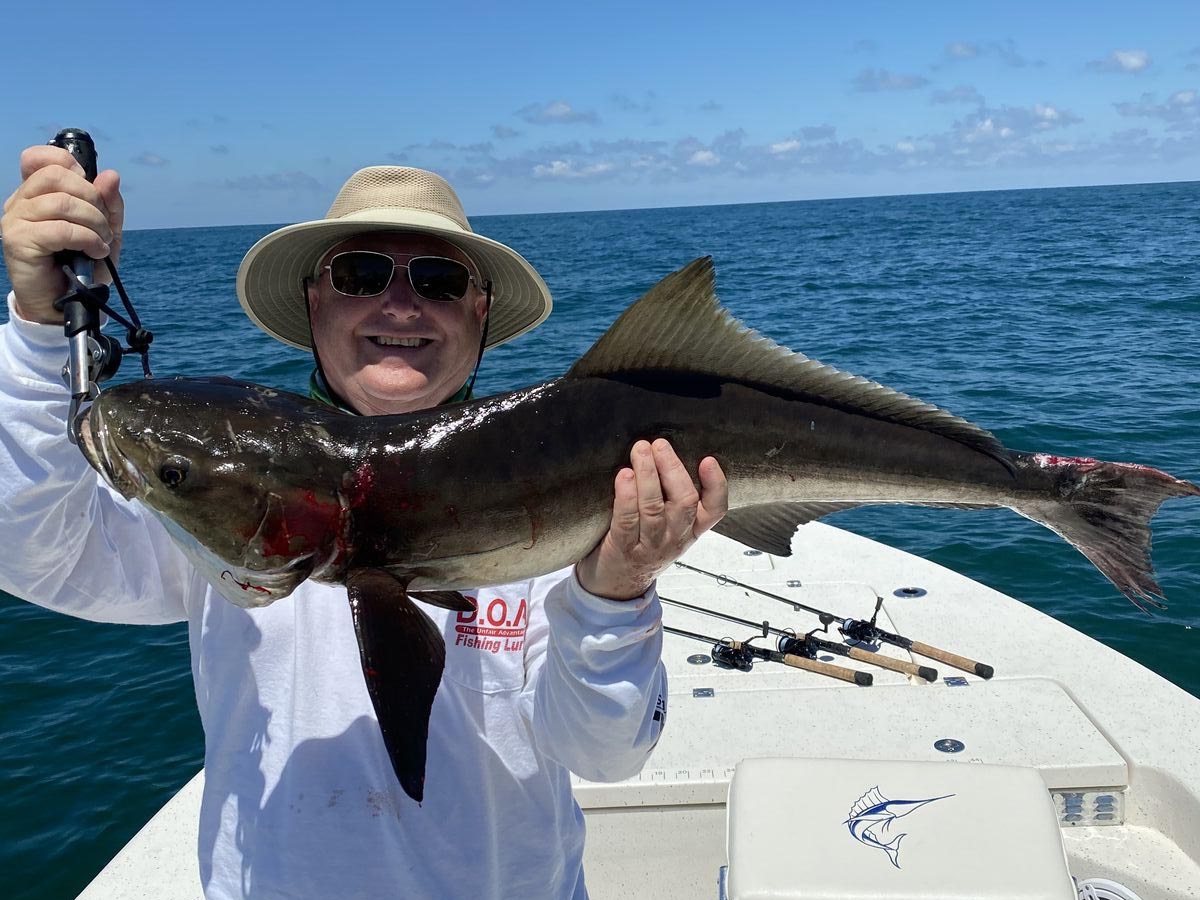 Last Updated on February 11, 2021 by Eric Bonneman
Along Florida's coastline, local inshore and offshore anglers have developed a sort of soft spot for Cobia. In general, these are a species of opportunity and a welcome one when they appear. They are relatively easy to get to take a hook, offer a drag screaming run upon hook-up, and taste great if kept for the cooler.
Finding Cobia in Florida
Cobia are known to hand around any form of structure. These range from buoys, nav markers, reefs, and wrecks. This can be in both the inshore and offshore, but the general rule of thumb is any structure that is holding baitfish.
At the same time, especially during a moving tide, cobia can be found on the Florida flats when baitfish are plentiful and moving into these areas. You can also often see them swimming along with a stingray or two in these shallower waters.
Occasionally, whether inshore or offshore, cobia can be spotted "finning" (swimming with their dorsal fin protruding from the water). In this, they have been confused with sharks on occasion.
The Florida Keys & East Coast
In the Florida Keys and along the east coast cobia are seasonal migrators. During the winter months, cobia are held up in the warmer water of the Florida keys in large numbers. As spring weather begins to warm things up, cobia start migrating north up the east coast of Florida and are abundant through the summer – getting to the Jacksonville fishery by June.
Florida's Gulf Coast & Panhandle
Along Florida's Gulf coast cobia are generally available all year round, though on extremely cold days can be held up and out of reach. That said, the most productive times are during those warmer spring and summer months. Up in the panhandle, near Panama City Beach, cobia have a larger presence during the spring months in those offshore waters.
Cobia Diet & Bait Choice
Cobia eat a relatively wide variety of bait types. Another name for cobia is "crab eater". This is due to the fact they are known to snack heavily on blue crabs. Alongside, they also keep several species of baitfish as a mainstay in their regular diet. So, when live bait fishing for cobia, your options can include:
Pinfish
Grunts
Blue Runners
Hardhead Catfish (spine removed)
Eels
Whitebaits
Shrimp
You would generally set these up on a 4/0-7/0 hook.
Artificial Lures For Cobia
Keeping the cobia diet in mind, your artificial lure choice should follow suit. Most naturally colored baitfish lures available for inshore fishing will meet this demand. Included in this mix are bucktail jigs and even plastic worms/eels. Soft plastics mimicking baitfish, crabs, and shrimp can also provide cobia success.
Fly Fishing For Cobia
Fly fishing is probably the toughest way to catch a cobia (alongside most fish species) but can be extremely rewarding when the time comes. Running an 8-9wt 9′ inshore fly rod, utilizing a weight-forward line, and a baitfish patterned fly will do the trick. However, your only real shot comes when you are at the ready and have one in your sight. If all of that comes together, and you have an angle to lead that fish with your presentation – boom, success is near!
Fighting A Cobia
Upon hook-up, this species will pull hard and fast to the nearest structure. During this initial run, don't try to slam the breaks – you won't win that tug of war, something will give. You may want to have your drag setup fairly light to allow for this initial run to happen without line failure. However long this run, or runs, last you must give the fish the leeway to continue, it will tire out. At that point, you can begin your final retrieve. Just bear in mind, once boated – they will use any stored energy left to go berserk at this final moment.
Florida Cobia Regulations
According to the FWC (as of 2/11/2021):
In state waters, regardless of which coast you are on, the minimum fork length to keep a cobia is 33″. Bag limits do change from one coast to the next, these regs are as follows:
Gulf State Waters (north of Monroe/Collier county line): Daily Bag Limit: 1 per day or 2 per vessel, whichever is less
Atlantic State Waters: Daily Bag Limit: 1 per day or 6 per vessel, whichever is less
In Gulf federal waters, the minimum fork length is 36″ with a limit of 2 per person.
In Atlantic federal waters (including  Monroe County), the minimum fork length is 33″ with a limit of 2 per person.
Legal gear to catch cobia include:
Spears
Gigs
Hook and Line
Seine
Cast Net
Eating Cobia
Cobia are a palate friendly seafood that allows you to cook it in any of several ways. Utilizing any of your favorite fish seasonings, cobia can be:
Baked
Fried
Sauteed
Smoked
Broiled
Grilled
Speaking of which, what is your favorite way to eat cobia?