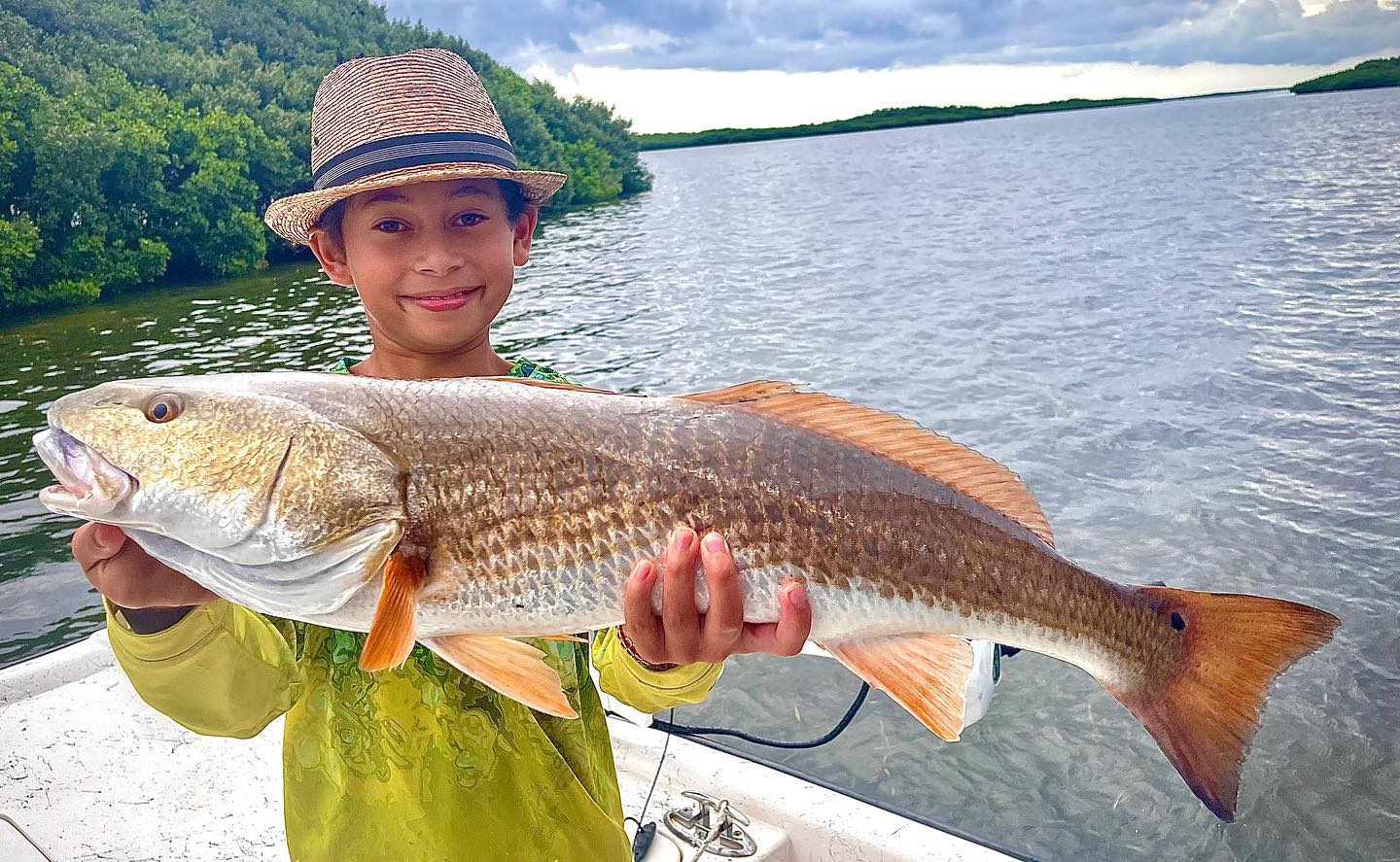 Last Updated on August 7, 2021 by Eric Bonneman
In the months of August and September, here in Crystal River, there is a run of redfish traveling west for deeper waters. The August redfish run consists of huge schools of redfish averaging over 25 inches in length. Just south of Crystal River, in Ozello and Homosassa, these species can be found traveling in waters with depths between two to fifteen feet.
Where To Target Them
While you would usually chase moving tides on the hunt for inshore species like redfish, during the run the tide plays very little role. However, with some areas being as shallow as 2 feet, strong winds can definitely play a role in both "blowing out the water" and with your fishing technique itself.
The main feature to look for is rocky points inside of the given water column. The beauty of fishing the southern waters of Homosassa and Ozello is the numerous tiny islands that draw in these hungry fish and allow the angler to sight fish with ease. This is due to how the water filters through these tiny island areas creating a crystal clear inshore fishery. Also, when targeting the extreme shallows within these areas you will have the opportunity to sight cast at tailing redfish – which is one of the most popular ways to watch and catch the species.
What Baits To Use
There is a wide variety of baits and lures that can be utilized during the redfish run. We will focus on spinning gear, but fly fishing guys can use this info when putting together your fly selection.
Live Bait
When fishing with live bait for redfish, the setup is fairly straightforward. For hook size, 1/0-3/0 are great options – the decision should come down to the size of the bait you choose to utilize. Leaders can be set up with weights between 15-30lb fluorocarbon line. Your mainline, fitted to a 3000 series reel, can be made up of 15-30lb braid – depending on what structure you might be fishing in.
Bait Choices:
Artificial Lures
Your gear setup is nearly the same as mentioned above, in regards to mainline, leader, and sizes. One of the great things about this time of year is the opportunity you have to get a topwater bite, and this is highly recommended in extremely shallow waters. While soft plastics can also be used to bump across the bottom in the same places. Lure color is usually up to the angler, but in my rule book, it is always a natural selection. Most live bait species have light bottoms and dark tops – so my color choice matches this. Red eyes are also a great addition.
Lures To Consider:
Berkley Gulp Shrimp
Spoons
Jigs
Topwaters (such as a Spook Jr.)
Suspending Twitch Baits (such as the Mirrodine 14mr)
With these setups and area choices, it is hard to miss your shot at landing a quality redfish during the summertime run in Crystal River. At the same time, utilizing the same methods you may find yourself landing seatrout, tripletail, and even small tarpon.